June 14 – Corpus Christi
Bl. Michael Tozo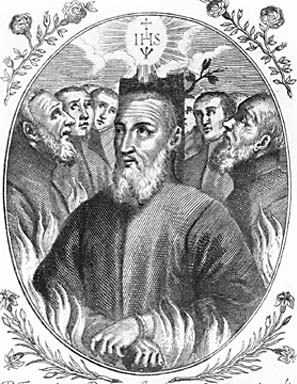 Feast Day: June 20
Blessed Michael Tozo was a Jesuit priest serving in Japan in the early 17th century. Along with his Jesuit companions, they persevered in ministering to the faithful in Japan and evangelizing even after the martyrdom of St. Paul Miki and his companions in 1597 in Nagasaki. Bl. Michael was a priest secretary for the Jesuit administrators in Nagasaki but also an effective catechist. Catechesis means to "re-echo." The catechist re-echos the teaching of the Faith that has been handed-on for two millennia. Bl. Michael did so with great dedication and courage. The Japanese emperor had criminalized Christianity and sent spies throughout the country to find catechists. Bl. Michael and many of his Jesuit brothers were caught in 1626 and burned alive in Nagasaki.
In every land and in every tongue, the Faith continues to be re-echoed to bring the good news that God has offered His friendship to us through His Son Jesus Christ. We owe thanks to God and to all men and women who dedicate themselves to teaching others this most precious treasure. We especially remember all the martyrs like Bl. Michael Tozo whose courage and fidelity keep the fire of God's love alive in this world.
---
---
June 7 – Trinity Sunday
Bl. Anna Maria Taigi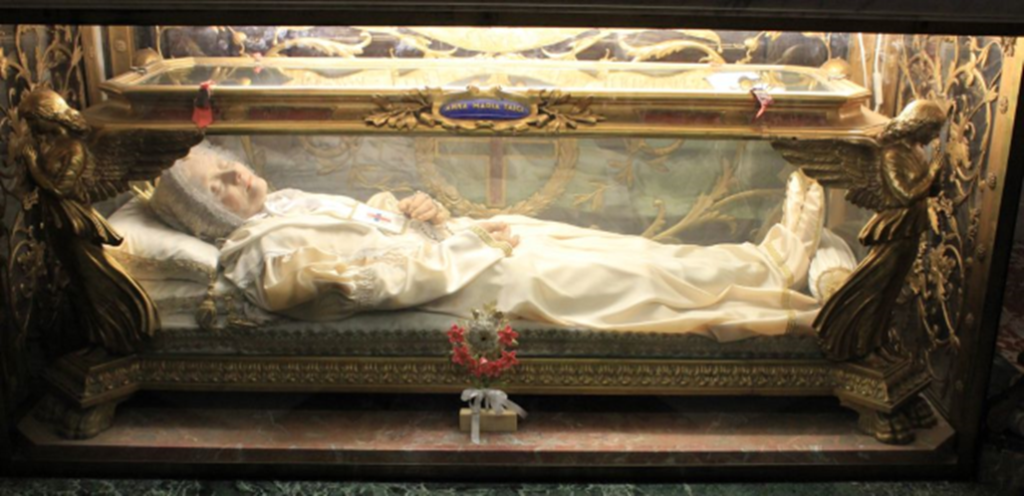 Feast Day: June 9 Patron of: Housewives, Mothers
Maria was born in the later half of the 18th century. She lived most of her life in Rome. She earnestly supported her poor parents while she was still a girl by working as a maid. As still a young woman, Maria married a Milanese man and would have seven children with him. Mostly Maria lived an ordinary life of worldliness. She was preoccupied with having things and experiencing all sorts of pleasures until she visited St. Peter's Basilica one day and had an inspiration of the Holy Spirit to change her life. From then, she became devoted to a deep spiritual life and to care of her family. She was very dedicated to her children's educations and to managing the household. Despite what superficially appears to be a plain life, Maria became a mystic and helped to convert her husband and children to a deeper life of prayer.
May 31–Pentecost
Bl. Maria Karlowska
Maria lived in Poland from the mid-19th to the early 20th centuries. As a teenager Maria was orphaned, so she entered an apprenticeship as a seamstress in Berlin, Germany. Her intense love and devotion to the Sacred Heart of Jesus made her solicitous for the poor. She eventually dedicated her life as a religious sister and foundress of the Congregation of the Sisters of the Divine Shepherd of Divine Providence. Maria spent her life in service to poor girls especially and to helping to rescue and rehabilitate prostitutes. Maria was beatified by Pope St. John Paul II in 1997 while he visited Poland.
May 24 — Seventh Sunday of Easter
St. Bernard of Montjoux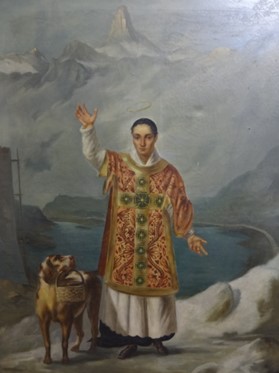 Feast Day: May 28
Patron of: Mountaineers, skiers
Bernard was a priest of the early 11th century. He was known as the missionary to the Alps in Northern Italy. He spent many years ministering to the communities in the mountains. Bernard established churches and schools throughout the mountain regions. He was also known to have built two hospices in the mountain passes to aid travelers who were making their way through the mountains. Bernard's hostels were administered by priests for centuries. These priests became known for search and rescue operations to assist mountaineers at risk. The famous rescue dog, St. Bernard is named after him.
---
May 17 — Sixth Sunday of Easter: St. Eugene de Mazenod

Feast Day: May 21
Patron of: Dysfunctional families
Eugene was born into a minor noble family in France in the late 18th century. Due to the French Revolution, his family had to flee France and all their wealth to wander through Italy for years. In Italy Eugene was educated by a kind priest who taught him about piety and he learned how to truly become noble without wealth. Eugene's parents separated from the pressures. Eventually, Eugene returned to France to see the devastation the French persecution had on the Church. He became a priest who specialized in preaching, confessing and teaching the poor in language they could understand. Eugene gathered other priests around him and soon they formed a new congregation called the Oblates of Mary Immaculate. Today, the OMI (not to be confused with the OMV at St. Francis Chapel) are missionaries to the poor in several countries.
May 10 — Fifth Sunday of Easter: St. Dominic de la Calzada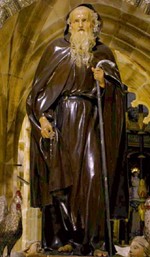 Feast Day: May 12
Patron of: Civil engineers
Dominic was a hermit priest from 11th century Spain. He had a gift not only for the contemplative life but also for building. Dominic set about building bridges, roads and hostels for pilgrims on the ancient pilgrim way in Spain, the Camino de Santiago. Many Christian pilgrims benefited from his causeway built with great patience and ingenuity. The place of his hostel is still in use for pilgrims to this day. His hermitage has become a shrine and is also now visited as a place of pilgrimage in its own right. St. Dominic de la Calzada used his talents to meet the needs of strangers who cam into his corner of the world.
May 3 — Fourth Sunday of Easter: St. Rose Venerini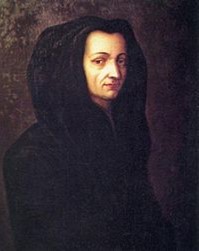 Feast Day: May 7
Rose was born in the mid-seventeenth century when the Papal States still existed. As a young woman her male suitor died so Rose had decided to enter a convent. Before tool long her mother became sick so Rose left the convent to care for her. She began to welcome local women into her home to pray the daily rosary. She learned from those encounters that the religious knowledge of the neighborhood women was quite bad. This inspired Rose to begin to teach others about the faith. With the help of a Jesuit spiritual director, Rose became devoted to Ignatian Spirituality and chose a life of a contemplative-in-action. She dedicated her life to building schools for girls and women. She became a pioneer of education for girls in Italy. With the help of some bishops and even the blessing of Pope Clement XI who was grateful for the schools she built in Rome.
April 26 — Third Sunday of Easter: St. Gianna Beretta Molla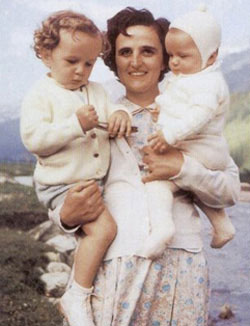 Feast Day: April 28
Patron of: Mothers, Physicians, Unborn Children
Gianna was born in Italy in 1922 to a devout Catholic family. All her life she loved her faith and p0racticed it with grace and joy. As a young woman, Gianna excelled in medical school, eventually becoming a physician with focuses on pediatrics and gynecology. As a member of the St. Vincent DePaul Society Gianna also used her gifts and talents to care for the poor and elderly. In 1955 she was married and eventually became a very happy wife and mother of three. In 1961 Gianna was pregnant with her fourth child when a tumor was discovered on her uterus. She had three choices: abortion, removal of her uterus and thus the loss of the child, or removal of the tumor, saving the child but risking her own life. Gianna chose the third option. Eventually Gianna gave birth to her fourth child, also named Gianna, who herself became a doctor. St. Gianna died one week later but happily gave her life for her child.
April 19– Sunday of Divine Mercy: St. Benedetto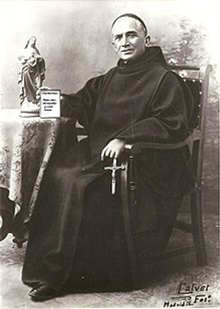 Feast Day: April 24
Patron of: People suffering from mental health issues
He was born Angelo in Italy northern Italy in 1841. One of 15 children, he worked for a bank as a young man. He quite his job after he was asked to falsify financial records. As a teenager he volunteered to be a stretcher-bearer for Italian and French soldiers during a conflict with Austria. Angelo would eventually join the Congregation of the Hospitallers of St. John of God. He became a priest and took the religious name Benedetto. He served his whole priesthood in Spain and Portugal focuses his ministry on aid to the elderly, mental health patients and those suffering from polio. He built several hospitals across Spain, especially children's hospitals. St. Benedetto founded his own order of nuns who also worked with the sick and infirm. He also helped to build a hospital for women dedicated specifically to psychiatric care. St. Benedetto died in 1914.
April 12 — Easter Sunday: St. Bernadette Soubirous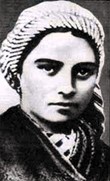 Feast Day: April 16
Patron of: Illness, France, Poverty
Bernadette was born into a very poor family in Lourdes, France in 1844. At the age of 14 she was sent by her mother to gather firewood. Near a grotto she had a vision of a beautiful lady in white. The lady held a golden rosary in hands. Bernadette, being a pious child, had a rosary in her pocket. She took the rosary in her hands and prayed. She was asked by the lady to return every day for 14 days. The lady eventually told Bernadette that her name was the Immaculate Conception. Bernadette faced great persecution and mockery for her claims. Eventually, the chapel and shrine of Our Lady of Lourdes was established at the originally grotto. Bernadette would become a religious sister with the Sisters of Charity in France. She suffered much in her short life, dying at age 15 of tuberculosis of the bone.
April 5 — Palm Sunday of the Lord's Passion: St. Jean-Baptiste de la Salle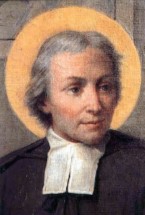 Feast Day: April 7
Patron of: Teachers
Jean was born into a wealthy 17th century family. He entered the seminary as a young man. He had to interrupt his studies at age 21 when both his parents died. He took a leave to become head of his family and see to the educations of his 4 younger brothers and sisters. Eventually he was ordained a priest and ministered in Rheims. He was moved by the plight of poor children and poor teachers. Believing education to be an important way to grow in dignity, he set out to train teachers and build schools. He scandalized his upper social class when he invited poor teachers to live with him so he could train them and instill in them confidence and community. His schools helped countless poor children become more prepared for life and salvation.
March 29 – Fifth Sunday of Lent: St. Mary of Egypt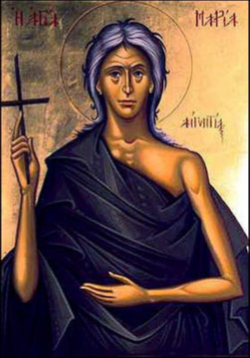 Feast Day: April 1
Mary lived in the mid 4th to the 5th centuries. She was a prostitute who desired to practice that trade in the Holy Land because of all the pilgrims. She embarked on a pilgrimage to Jerusalem in hopes of finding business. However, when she arrived in the Holy Land she began to convert. Mary saw a picture of the Blessed Virgin which spoke to her heart. She began to repent of her sins and sought counsel. Eventually Mary became a hermit. She spent many decades in the desert living a life of prayer and penance. A monk visited her and brought her Communion. He returned to see her one year later and found her corpse. She left a note saying that she had died one year earlier on the exact day she received Holy Communion.
March 22 – Fourth Sunday of Lent: Bl. Emilian Kovch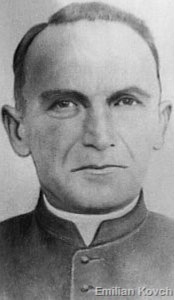 Feast Day: March 25
Emilian was a Ukrainian Rite Catholic priest of the 20th century. He was a married priest with six children. He worked for a time as a parish priest then became a chaplain to Ukrainian soldiers fighting the Bolshevik takeover of Ukraine. He was known for his extraordinary generosity to the poor and orphans. He often welcomed poor and orphaned children to live with his own family. When the Germans invaded Ukraine in 1941, Fr. Kovch worked to shield Jews from them. For two years he was effective but was finally caught in 1943 and sent to a concentration camp. Blessed Emilian was executed at Majdanek Concentration Camp in 1944. The Jewish Council of Ukraine awarded him the title "Ukraine righteous" in 1999.
March 15 – Third Sunday of Lent: Bl. Maria Candida of the Eucharist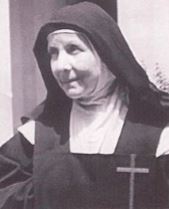 Feast Day: March 21
Maria was an Italian who lived from 1884 till 1949. She received her first holy Communion at age 10 and thereafter suffered immensely if she was unable to receive. She developed a life-long intense love of the Eucharist. It was that devotion that sustained her for twenty years waiting to enter the Carmelite order. Maria had wanted to become a Carmelite at the age of 15 but her family refused. It wasn't until she was 36 that she was finally able to enter the religious life. She spent the 20 years learning and applying Carmelite spirituality. Eventually she became a superior of the order and maintained her special love of the Blessed Sacrament. She found in the Eucharist a school of contemplation and spiritual life
March 8 – Second Sunday of Lent: St. John Ogilvie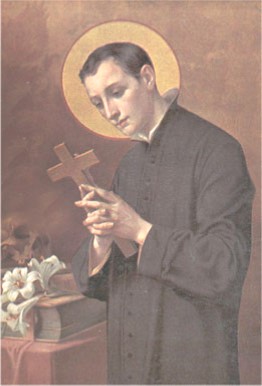 Feast Day: March 10
John was born in 1579 to a wealthy Scottish noble family. The family was Calvinist but sent John to Catholic schools in Europe because they wanted him to have the best education. Throughout his education in Europe John became exposed to the passionate arguments of the day concerning Catholicism and Protestantism. He became convinced of the Catholic explanations and was very impressed with the English Martyrs. John became a Catholic and eventually entered the Jesuits in 1599. He was sent back to Scotland to provide spiritual ministry to Catholics. He was also very effective at helping lapsed Catholics to return to the Faith. He was eventually betrayed by someone and arrested. John was tortured but refused to reveal the names of hidden Catholics. He was hanged as a traitor in 1615.
March 1 – First Sunday of Lent: St. Teresa Eustochio Verzi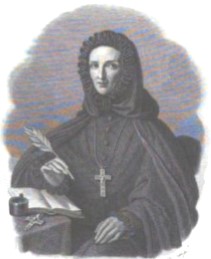 Feast Day: March 3
Patron of: Educators
Teresa is the foundress of the Congregation of the Daughters of the Sacred Heart of Jesus. She was born in Italy in the first half of the 19th century, a time when the harsh Jansenist heresy still gripped much of Europe. Teresa was highly educated and was well-trained in spirituality by her mother and her spiritual director who was a priest. Using her great intelligence and her disciplined spiritual life, Teresa founded a congregation dedicated to keeping the heart attached to the love of Christ. With a balanced spiritual approach Teresa and her sisters taught in schools, led retreats, cared for the sick and the poor and spread devotion to the Sacred Heart of Jesus. St. Teresa is a model of what someone from privilege is able to accomplish when the heart is focused on the Lord.
February 23 – Seventh Sunday in Ordinary Time: Bl. Daniel Brottier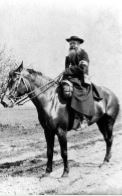 Feast Day: February 28

Daniel Brottier was a very modern priest of the 20th century. When he was a boy growing up in France he said that he wanted to be pope. While that was not God's will, he did become a priest. After he was ordained he was a teacher in a parish school in France. But he desired to serve in the missions and so joined the Congregation of the Holy Spirit. He spent some years in Senegal as a missionary priest. Returning to France due to poor health, Blessed Daniel volunteered to be a military chaplain during World War I. He was cited for bravery for ministering on the battlefield six times and won the prestigious Legion of Honor medal, the highest military award in France. Later he administered an orphanage where he taught children how to make movies. He himself produced a movie on the life of St. Therese of Lisieux and built the first church in her honor after her canonization.
February 16 – Sixth Sunday in Ordinary Time: Sts. Francisco and Jacinta Marto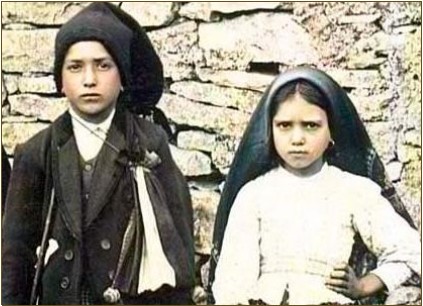 Feast Day: February 20
Patron of: Bodily ills, People ridiculed for their piety
Francisco and Jacinta, along with their older sister Lucia, were the three children who received the vision of Our Lady of Fatima in 1917. From May 13 till October 13 the three children were visited by Our Lady 6 times. They were instructed by her to pray the rosary for the conversion of sinners and for peace in the world. Francisco was 8 and Jacinta 7 at the time of the visitations. The three children together suffered from the ridicule of many for their claims. On October 13, 1917 70,000 people witnessed the sun dance in the sky as a sign that Our Lady truly had appeared. Both children died of influenza at a very young age. Francisco first in 1919 and Jacinta in 1920. Their tombs are in the basilica of Our Lady in Fatima.
February 9 – Fifth Sunday in Ordinary Time: St. Catherine de Ricci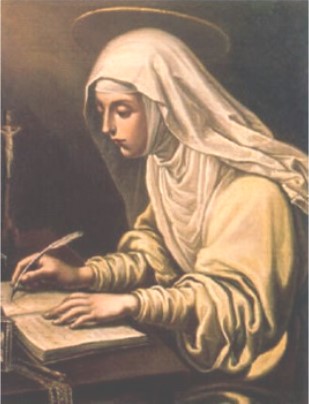 Feast Day: February 13
Patron of: The sick
Catherine was her religious name taken when she entered the convent at a young age. She was born Alexandrina in Florence, Italy in the 16th century. She became known while in the convent for her virtue, mysticism and wisdom. Catherine suffered from an unknown illness that could not be treated. She prayerfully joined herself to Christ Crucified and bore the pain patiently. At one point in her life she experienced the wounds of Christ (stigmata) mystically each Thursday beginning at noon. Catherine's reputation for mystical prayer, efficient administration of the convent as prioress, and eminent sanctity lead to her being consulted by three cardinals, all of whom eventually became popes. Her greatest joy was to be united to Christ in prayer and then to care for the sick sisters of the convent, bringing to them the love that overflowed from her heart.
February 2 – The Presentation of the Lord in the Temple: Philip of Jesus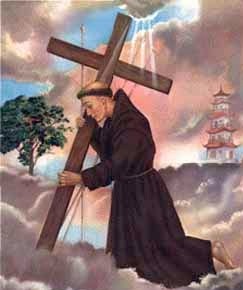 Feast Day: February 5
Patron of: Mexico City
Born in Mexico City in 1572, Philip tended to live a care-free life as a child. Later, he became more devout and entered the Franciscan Order in Mexico. It wasn't long into religious life that Philip became bored and decided to leave the Franciscans and seek wealth and pleasure as a merchant. His business took him to the Philippines where he did live a life of pleasure. Only one year into that life Philip regretted his decision and repented. He sought re-entry into the Franciscans who graciously re-admitted him. He was being sent from the Philippines back to Mexico to be ordained for the priesthood but a storm blew his ship onto the shores of Japan. He and his companions were suspected of being invaders and were condemned by the emperor. Philip was martyred with 25 others, including St. Paul Miki
January 26 – Sunday of the Word of God: St. Peter Nolasco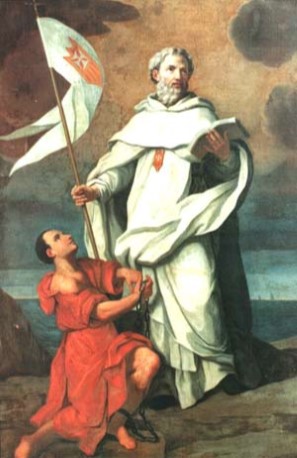 Feast Day: January 28
Peter was born in France in the late 12th century to a wealthy merchant. Early in life he began to dedicate himself to works of service, forswearing
a merchant's life for himself. The constant wars between Christians and Muslims in the 13th century had produced many slaves and hostages. Peter, along with Raymond of Pennafort, formed a religious congregation in 1218 to help secure the release of Christian slaves from the Muslims. They dedicated themselves to either purchasing the freedom of slaves or trading themselves in exchange for the release of others. Peter himself twice exchanged his freedom for the sake of others. In his lifetimes, he helped secure the freedom from bondage of almost 3,000 Christians. His congregation, the Mercedarians, secured the release of nearly 70,000 people throughout its mission.
January 19 – Second Sunday in Ordinary Time: St. Marianne Cope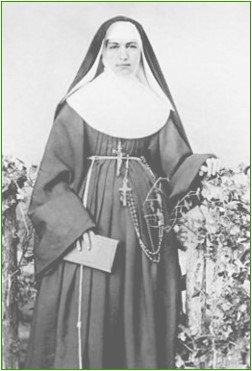 Feast Day: January 23
Patron of: Lepers, Outcasts, HIV-Patients
Born in Germany in 1838, Marianne emigrated with her family to Central New York when she was two years old. In 1862 she became a Franciscan sister. In her years in Syracuse, NY she established two hospitals and served as both a teacher and principal. In 1883 St. Marianne accepted an invitation to serve as a missionary in Hawaii to the poor and to people suffering from leprosy. She established hospitals and schools and cared for vulnerable girls. Marianne also helped to care for St. Damien of Molokai in his final days. Marianne never returned to live in the United States. She remained in Hawaii carrying on her work for the poor and suffering until her death in 1918. she was granted a royal award for all of her work with the suffering and vulnerable. In 2011 she was canonized thus becoming the first saint from the Diocese of Syracuse, NY.
January 12 – The Baptism of the Lord: St. Nina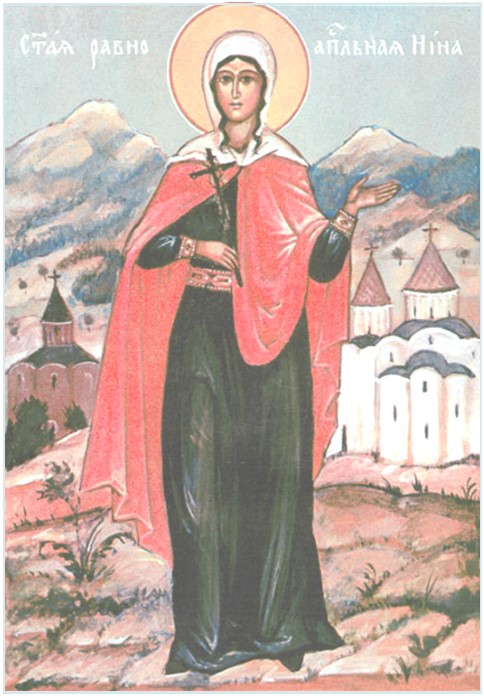 Feast Day: January 15
Patron of: The nation of Georgia
Nina was born in the region of Cappadocia (modern-day Turkey) in the year 300. She was probably a slave who was brought to Georgia. There she lived a very quiet and pious life and her zeal for the Lord was shared with others.
Nina was unafraid to speak of Christ and of finding real freedom with him. Through her example and bold proclamation many became converted to the faith. She is said to have even converted the queen of Georgia. She is an example of a true lay apostle.
January 5 – Epiphany of the Lord: St. Andre Bessette
Feast Day: January 6
Plagued his entire life with ill health and orphaned at 12, Alfred Bessette persevered in his vocation to religious life chiefly through his devotion to St. Joseph. He joined the Holy Cross Fathers of Quebec at the age of 25 but was barely able to work at all due to his weak health. The Congregation wanted to release him but Bro. Andre, as he became known, requested and received permission to stay from the Bishop of Montreal. He became a porter at one of the local schools run by the Fathers. He requested of the Bishop permission to build a chapel in honor of St. Joseph near the school grounds. With barely any money he began with a small wood shed. Over the years as he trusted in St. Joseph and with continued support of patrons, Bro. Andre eventually built the great St. Joseph's Oratory Basilica in Montreal. He died before seeing its completion.
December 29 – The Holy Family Of Jesus, Mary and Joseph: Pope St. Sylvester I

Feast Day: December 31
Sylvester's papacy was marked by some very momentous events that had lasting impact on the Church and the world. He was pope from 314 to 335. In that time the Church emerged from the catacombs to become publicly accepted in the Roman Empire. His was the time of the rise of the powerful and consequential Emperor Constantine and the Edict of Milan that recognized the legality of Christianity. The building of the great papal basilicas of St. Peter's and St. John Lateran came about during his reign as did the first ecumenical council of Nicaea in 325 AD. All of these events happened during his papacy but not necessarily by his initiative. Sylvester thus proves that responsible leadership never means unnecessary micro-management. Sylvester had the humility and the desire for the growth of the Church, and he allowed other actors to utilize their skills for the common good. The humble wisdom of Sylvester had a lasting impact on God's Church.
December 22 – Fourth Sunday of Advent: St. Fabiola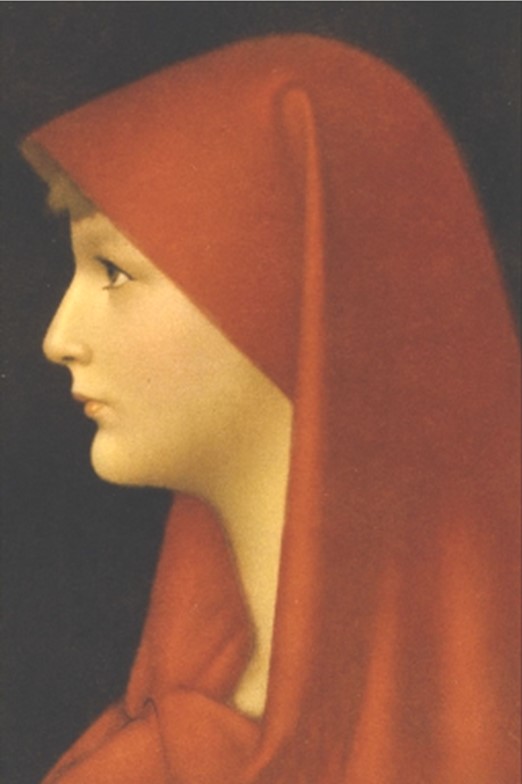 Feast Day: December 27
Patron of: Those who are Divorced
Fabiola belonged to a fabulously wealthy patrician family in Rome in the 300's. She was an early devotee of St. Jerome. Her husband lived such a wretched life that she divorced him according to Roman law. She married a second time while her first husband still lived causing scandal to the Church in Rome. When her second husband died she approached the Lateran Basilica in Rome dressed in the clothes of a pauper and publicly repented, which had a marvelous effect on the people of Rome. From then on Fabiola used her immense wealth to care for the poor and suffering, even building a hospital in Rome where she personally nursed the poorest and most suffering patients For a time she joined St. Jerome in Bethlehem studying scripture, praying and living a life of asceticism. She became a great patron of the Church and of religious orders.
December 15 – Third Sunday of Advent: St. Adelaide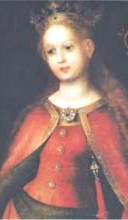 Feast Day: December 16
Patron of: Abuse Victims, In-Law Problems
At the age of two in 931 Adelaide was promised in marriage to a rival's son. This was part of a peace agreement in the Kingdom of Burgundy in Italy. Another rival to the throne rose up and killed Adelaide's husband and king, Lothaire. Attempts were made to force Adelaide into another marriage. After refusing, Adelaide was imprisoned but escaped. While in refuge in Canossa she met the Holy Roman Emperor, Otho; they married and ruled jointly. Adelaide was widely popular due to her wisdom and care for her people. Later, her daughter-in-law was extremely jealous of her popularity and began to mistreat her. Adelaide eventually had to leave the palace to seek peace. When her son and daughter-in-law both died Adelaide
returned to court to become regent for her grandson. Her court was known for its solemnity and deep spirituality.
December 8 – Second Sunday of Advent: St. John of the Cross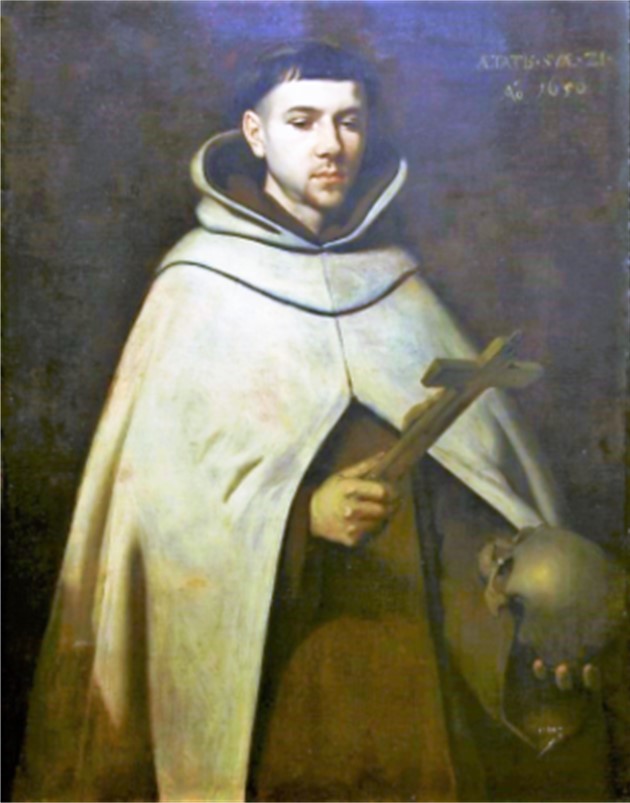 Feast Day: December 14
Patron of: Contemplative Prayer
John is considered one of the greatest poets in Spanish history. His poetry expresses his mystical experience of intimate love of God. He is a Doctor of the Church, meaning that his teaching on the life of prayer and spiritual growth was unique in the history of the Church. John joined with St. Teresa of Avila to reform the Carmelite Order and initiate the Discalced branch, which continues to this day. For his efforts he was persecuted by his own community and often held isolated in prison. It was during his imprisonment and vast suffering that he experienced his greatest mystical prayer and composed his best poetry. John is best known for his poem and teaching on the Dark Night of the Soul. This is a time of intense intimacy with God, when all things of the world are purged from the soul and the reward of God's love is all that remains.
December 1 – First Sunday of Advent: Blessed Ivan Sleziuk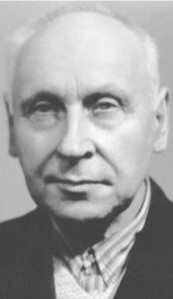 Feast Day: December 2
Born in the Ukraine in 1896, Ivan studied for the priesthood as a young man with the Ukrainian Greek Catholic Church. He was ordained a priest in 1925. After twenty years of faithful ministry, Ivan was consecrated a coadjutor bishop in 1945, meaning he shared episcopal responsibility with the bishop who consecrated him. This was done as a precaution since the Soviet government was threatening to arrest Church leadership. Ivan himself was arrested soon after and was sent to a labor camp in Russia for 10 years. He was released in 1954. Once again, Ivan was arrested by Soviet officials and sentenced to a hard labor camp in 1962. He was released again in 1967 but spent the rest of his life as a bishop being constantly harassed by communist authorities and interrogated often by the KGB. He died of his injuries in 1975.