The Oblates of the Virgin Mary (OMV) are honored to welcome you to this beautiful Shrine dedicated to Divine Worship.
Visiting the Shrine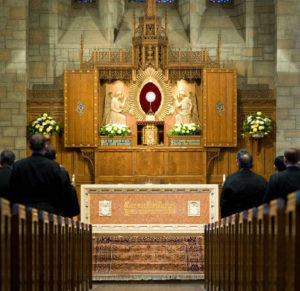 In fulfilling our call to provide a place of prayer, we offer many opportunities for people to come to visit and spend time with Our Lord in His Blessed Sacrament.
We provide liturgical services throughout the day, including Mass and the Liturgy of the Hours. Listen to our homilies online and sign up for our weekly bulletin email. OMV priests, brothers and seminarians, take part in these daily liturgies. We invite you to come to know the shrine, our mission, and us.
Against the back-wall of the Sanctuary are reredos, which include the Exposition Throne. The angels, copied from those of Fra Angelico, hold censers and below them are the inscriptions:
"This is the Bread which came down from Heaven; Behold the Bread of Angels made the food of pilgrims"
Weekday Prayers
Today, the shrine is also the home of Our Lady of Grace Seminary of the Oblates.
On weekdays during the academic year, the Oblates and their seminarians pray Morning Prayer and also hold a daily holy hour in the afternoon including recitation of the Rosary and Evening Prayer.
The OMV priests that live here also staff the Saint Francis Chapel at the Prudential Center and St. Joseph Retreat House in Milton, MA.
Join us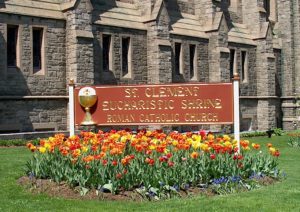 We hope that you will come inside and enjoy the prayerful atmosphere and join the many people who have honored Our Lord with their presence at this Shrine.
Discover Our Groups
Several community groups convene at St. Clement Shrine, including Adoration Boston, St. Clement Shrine's Young Adults, and the Back Bay Mobile Soup Kitchen. Learn more about each of our groups and how to get involved.
Masses & Memorials
The Oblates of the Virgin Mary will pray for your intentions and your loved ones (living or deceased) in the celebration of the Mass at St. Clement Shrine. Enroll your loved ones in an upcoming seasonal Novena or through Perpetual Mass Enrollment, request a Mass, or light a candle.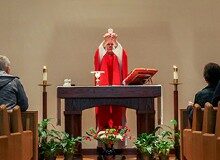 Share Your Intentions & Honor a Loved One
Let's join together in prayer and the celebration of Mass! We invite you to engage with us by sharing your intentions and honoring your loved ones, either living or deceased, through our Masses & Memorials options.
Honor a Loved One