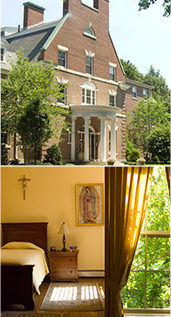 The Retreat House offers particular weekends of the year for those seeking a three-day, directed, silent retreat. The weekend is specifically tailored to the needs of the individual given what they are seeking, the desires of their heart and where the Lord is leading the person.
During the weekend, there are opportunities for Mass and meeting with a spiritual director each day. Weekends begin with dinner on Friday evening and conclude with lunch on Sunday.
Registration
A directed retreat weekend costs $250 which includes a private room with a private bathroom, all linens and meals.
Contact Us to Book the Directed Retreat Weekend