The Oblates of the Virgin Mary (OMV) are a religious community of priests and brothers within the Catholic Church who are dedicated to working toward a rebirth of spirituality in today's world. Our Catholic seminaries in the Philippines are located in Cebu and Antipolo.
What Is a Seminary?
For Catholics, a seminary is a school of theology whereby those called to the priesthood can prepare to for their ordination as priests. In joining the Oblates of the Virgin Mary seminary in the Philippines, seminarians actively participate in our communities as they work through the three stages of formation.
Joining the Oblates
Here in the Philippines, we constantly experience the truth of this promise from Jesus as priests and brothers: To be God's instrument in absolving sin, to pronounce the words that bring about the essential change of bread and wine into the Body and Blood of Christ, and to guide the people of the Philippines through retreats and recollections as they strive to understand and respond to the action of God in their lives.
"Everyone who has given up houses or brothers or sisters or father or mother or children or lands for the sake of my name will receive a hundred times more, and will inherit eternal life." Matthew 19:29
It is an unimaginable and inexpressible joy for all of our Oblates of the Virgin Mary priests and brothers.
Learn More About an Oblate Vocation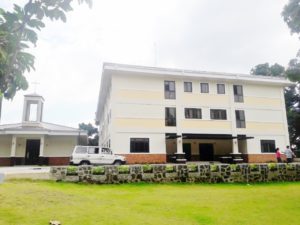 If you believe that God may be calling you to priestly and religious life as an Oblate of the Virgin Mary, do not be afraid! The needs of the Filipino people are too great, and our mission too urgent to waste time. Contact us by phone, e-mail, letter or text, in English, Tagalog, or Visayan to introduce yourself to us. Better yet, complete the OMV Candidate Information Sheet and send it to us as an email attachment.
Once you have contacted us, you will be asked to fill out a brief personal history form. Upon returning it, you may be invited to one of the "search-ins", where you can meet our seminarians, learn about our formation program and experience the daily reality of community life. We hold these search-ins at various times throughout the year at our formation center and retreat ministry in Cebu. If you aren't able to attend, one of us may be able to visit you the next time we are giving the Spiritual Exercises at a venue close to you.