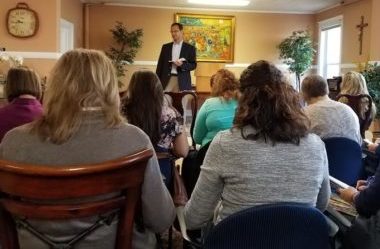 Upcoming Events, Workshops, and Seminars
---
Lenten Armchair Retreat
February 19 to April 2, 2023
Spend this lent learning how to pray with the Word of God with the experience of spiritual direction. You need only commit yourself to praying for 30 minutes each day in your own home and meeting with a spiritual director once a week. ***Space is limited and registration is required*** Registration requests must be received no later than February 12, 2023. To Register online click button below:
---
The Letters of St. Therese of Lisieux
Fr. Timothy Gallagher, OMV
Saturday/Sunday, January 28-29, 2023
9:00 AM—3:00 PM
Cost= $50 Lunch Included
Fr. Gallagher explains the importance of St Therese of Lisieux, who Pope St. Pius X called the most important saint of the 20th century. He discusses the significance of her "letters" in revealing aspects of the saint and her relationships. Fr. Gallagher notices the "other centeredness" of Therese's letters. He also sets into context the age and culture of France and how it touched the lives of the Martin family.
Conferences:
The Charism of Wisdom and the Little Acts of Love
Joy and Gratitude
The Ordinary Quality of St. Therese's Holiness
The Complete Conversion Grace
The Passion of St. Therese
Casting Flowers
---
Directed Silent Retreats
Directed silent retreats are a wonderful experience for people in every stage of the spiritual life. If it is your first time, you can learn the value of silence in prayer and life in general. If you have made retreats before, come for deeper growth and personal restoration. These retreats include a daily meeting with a spiritual director to discuss your prayer and experience in a beautiful retreat setting near Denver. Come away for five days of spiritual renewal – in whatever time you have to be still and know God.
---
---
Other Resources
Our Lady of Perpetual Help Retreat and Spirituality Center: https://olph-retreat.org/
Our Lady of Good Counsel Retreat House: www.goodcounselretreat.com
Download: How to Prepare for a Virtual Retreat.pdf
Book & Virtual Retreat: Fr. Gallagher has published his most recent book of the topic, Overcoming Spiritual Discouragement: The Wisdom and Spiritual Power of Venerable Bruno Lanteri. Learn practical ways to find peace amid your spiritual struggles and patience in the face of intense trials. Moreover, learn to profit spiritually from the afflictions that beset you by knowing how to recognize the enemy and reject his wiles. The book is also the basis for a free virtual workshop. Register today!
Stay up to date on everything happening at the Lanteri Center. You can read our latest newsletter online, or contact us for more information on our ministries and events.