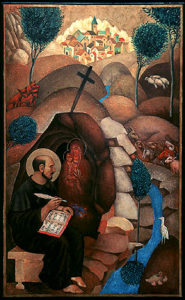 Beginning 2023, the Lanteri Center will host a new three-summer, integrative formation program in the ministry of spiritual direction. Each summer, this intensive program will take place over two weeks. Students will live and study at Colorado Christian University, located just west of downtown Denver.
Summer Residential Formation Program for Spiritual Directors
Students will be formed in the principles and practice of spiritual direction as listed below under the Prayer Partnering Program. There are two prerequisites for admission to this program:
Be in spiritual direction at the time of application;
Have experienced a 30 day Ignatian Retreat or an Ignatian 19th Annotation Retreat in daily life.
View the detailed brochure
To register and for further information, please contact Kay Davis at 303-298-1498 or lantericenter@omvusa.org.
The estimated cost of the program for summer, 2023 will be:
Tuition fees: $1,400.00
Room and board:  $1,300.00
Other required courses (if needed):
Introduction to Theology: $100
Each candidate would be responsible for compensating his or her supervisor, as well as arranging transportation to and from the Summer Intensive Program
Former Students Experience of the Summer Residential Program (SRP)   
"The instruction /teaching is nothing short of brilliant"
"The Lanteri Center program is overwhelmingly positive and enriching – a vessel of God's endless love, mercy and wisdom."
Michael C. – Summer Residential Program Student 
"The Lanteri Center program is akin to a "boot camp" that prepares one to enter the world with the knowledge, resources, courage, and trust in God to serve"
"I see again in a deeper way God's extravagant activity in drawing me to Him." Lynette R.
"The place, the community, to have time to pray and space to pray about the themes we are seeing. It is like a mini retreat." Maria B.
"I have grown closer to Jesus these past 2 weeks but, even more, I have felt the love of our Blessed Mother – a beautiful and moving experience for me." Tulip T.