What is Spiritual Direction?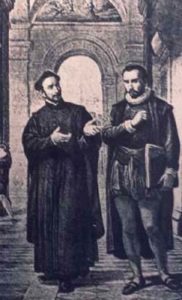 Spiritual direction is the help given by one Christian (director) to another (seeker) which enables the seeker to be attentive to the Lord's personal communication to him.  The seeker is then able to listen and respond to God, grow in intimacy with Him, and carry out the consequences of the relationship.  The seeker of spiritual direction is a person of faith who is committed to growing in a disciplined life of prayer and meets regularly with an experienced guide who is mature in his or her faith.
The seeker learns to notice and share experiences of God in prayer and daily life.  The spiritual director listens intently and asks questions that evoke greater awareness and understanding of God's presence.  The seeker comes to greater clarity about who God is and how He is active in his or her life.  The seeker is helped to identify, develop and use one's gifts and feel more alive.  Spiritual direction provides accountability in maintaining and cultivating one's prayer life and the occasion to reflect on one's spiritual progress or regression.
Learn more about spiritual direction and the benefits it can bring to your life.
How Do I Engage in Spiritual Direction?
The Holy Spirit directs you by moving you deeply and leading you to a closer union with God.
You may wish to share such experiences with a good listener who will do so in a non-judgmental way.
By contacting the Lanteri Center, you will be put in touch with a spiritual guide who can teach you to pray with Scripture passages.
Spiritual Directors are sympathetic listeners rather than problem solvers. They will help you to recognize and respond to God's presence in your life.
More experienced persons may choose to make the full Spiritual Exercises of St. Ignatius of Loyola, personally directed in weekly interviews while continuing their usual activities.
Prayerful persons may also seek spiritual direction while dealing with specific needs: discerning new faith experiences or facing a serious decision.
Spiritual direction is a three-part encounter: God, the person being directed and the spiritual director, in communion with one another so that the person directed may grow in relationship with God.
If you wish to inquire further about Spiritual Direction at the Lanteri Center, call us at 303-298-1498 or complete our contact form.
Find a Trained Graduate Near You
Would you like to find a spiritual director in your area who completed formation at the Lanteri Center? We'll send you a list of contacts so that you can continue your journey closer to God.
Request Information