The Oblates of the Virgin Mary are pleased to announce the upcoming Ordination of our brother
Deacon Jonas Verdeflor, OMV
to the Order of Priesthood through the laying on of hands and the invocation of the Holy Spirit. He will be ordained by His Excellency, the Most Reverend
Bishop Robert J. Brennan
on Friday, June 16, 2023 at St. Teresa of Avila Church in South Ozone Park, New York.
109-26 130th Street
South Ozone Park, NY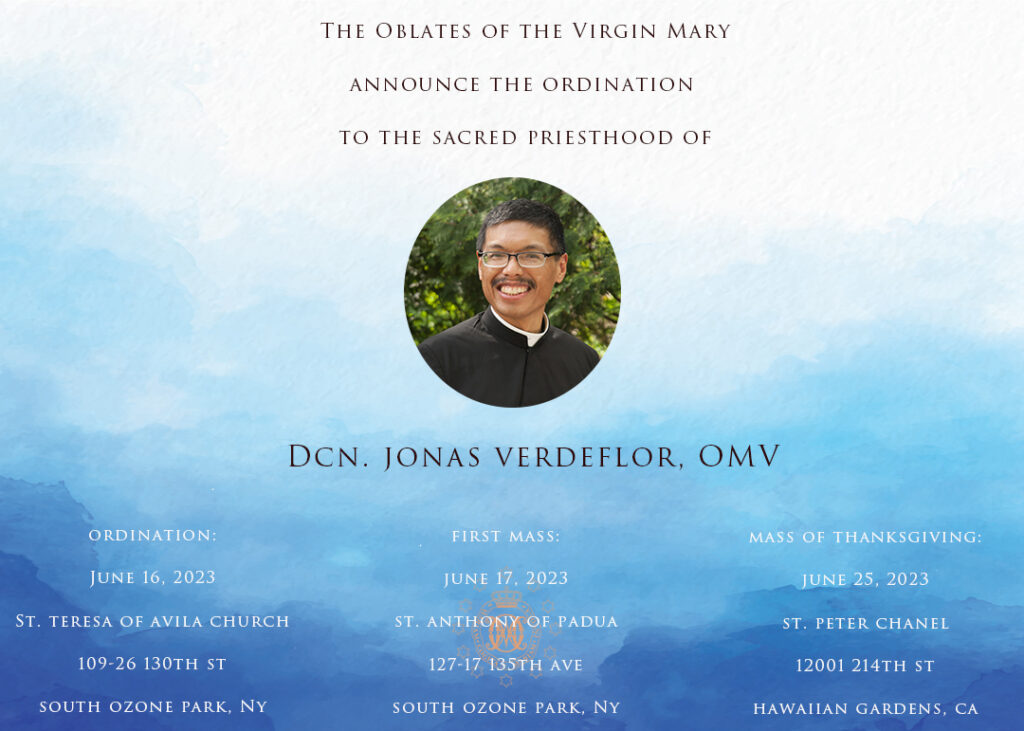 About Dcn. Jonas
Dcn. Jonas Verdeflor is the youngest of three children and joins us from Queens in New York City. He earned his B.S. in Journalism and Technical Writing from NYU Tandon School of Engineering and worked for twelve years as a copy editor and page designer at various newspapers across the country.
He first learned about the Oblates from watching Fr. Timothy Gallagher, OMV on TV and was later recommended to the Oblates by his spiritual director. Dcn. Jonas began his first year of postulancy at Our Lady of Grace Seminary in September 2014 and professed his first vows on August 5, 2017. He professed his final vows on January 28, 2022, with his diaconate ordination on January 29, 2022.
"The light yoke of Jesus is his arm around our shoulders as we invite him to walk with us in our joys and struggles."

Deacon Jonas Verdeflor, OMV
Celebrate the New Fr. Jonas With a Gift
First Masses
Fr. Jonas Verdeflor will celebrate his first Mass on June 17, 2023 at St. Anthony of Padua in South Ozone Park, NY.
Mass of Thanksgiving
Fr. Jonas will also celebrate a Mass of Thanksgiving on June 25 at St. Peter Chanel in Hawaiian Gardens, CA.
"Remember that we do not acquire holiness in twenty-four hours nor without continual defects and failings. The awareness that we will commit many failings, even very many, greatly helps us toward holiness because it roots us in self-knowledge and in humility, and this is one of the foundations of our sanctification, the other being an invincible hope in divine mercy."

Venerable Bruno Lanteri, Founder of the Oblates of the Virgin Mary
Please keep Deacon Jonas in your prayers as he prepares to be ordained a priest of Jesus Christ! Ordination to the priesthood is a momentous milestone, and we're overjoyed to celebrate our Brother Jonas and his journey thus far.