The Oblates of the Virgin Mary (OMV) are a religious community of priests and brothers faithful to the magisterium of the Catholic Church and working toward a rebirth of spirituality in today's world. In joining the Oblates of the Virgin Mary, candidates actively participate in community life as they complete apostolic works, undergo careful spiritual direction, and study philosophy, theology, and the charism of the Oblates and their founder, Venerable Bruno Lanteri.
How do you become an Oblate of the Virgin Mary?
Becoming an Oblate begins with an official visit to Our Lady of Grace Seminary in Boston, along with a formal application process. Once accepted, there are three stages of the Oblate formation program, which typically take a total of eight years for young men to complete.
Learn More About Our Process
Discover Your Purpose
Oblate ministries include a broad spectrum of apostolic efforts, including retreats, spiritual direction, priestly formation, missionary work, lay groups, parishes, and evangelization through the media. We need men to join us in the crucial work of spiritual fatherhood today. We need men of courageous heart to serve the Church and bring hope through friendship with Jesus Christ.
Discern Your Vocation
Meet Our Seminarians
Meet some of the men who have been called to become an Oblate. Our seminarians begin their formation at the Our Lady of Grace Seminary in Boston, MA, and their religious life of service may lead them to ministries around the world.
Br. Jorge Sanchez
OMV Seminarian
Being in formation with my brothers these past few years has been a great blessing. It has really taught me how to unpack my heart so that the Lord reveals the real treasure of His love within me. It has been a journey of healing and of self revelation. A verse from the Bible that has inspired me is, "Be still and know that I am God!" ~ Psalms 46:11
Christopher Puglia
OMV Seminarian
Coming to live the Oblate way of life has allowed me to grow in my relationship with the Lord and with my Brothers in community. While I anticipated the demands of religious life before entering, I am continually surprised at how joy filled this life is. Formation with the Oblates has allowed me to become most fully myself, exactly the person God has created me to be.
Miguel Roque
OMV Seminarian
Formation as an Oblate has been a gift. The way that we are formed to be consecrated to Jesus through Mary as an Oblate is both challenging and life-giving. Challenging because the radical way of life as an Oblate leads me outside my comfort zone. Life-giving because this is where Jesus is inviting me to become "fully alive." Being guided by priests who are emphasizing the merciful love of God as well has been a joyful and healing experience!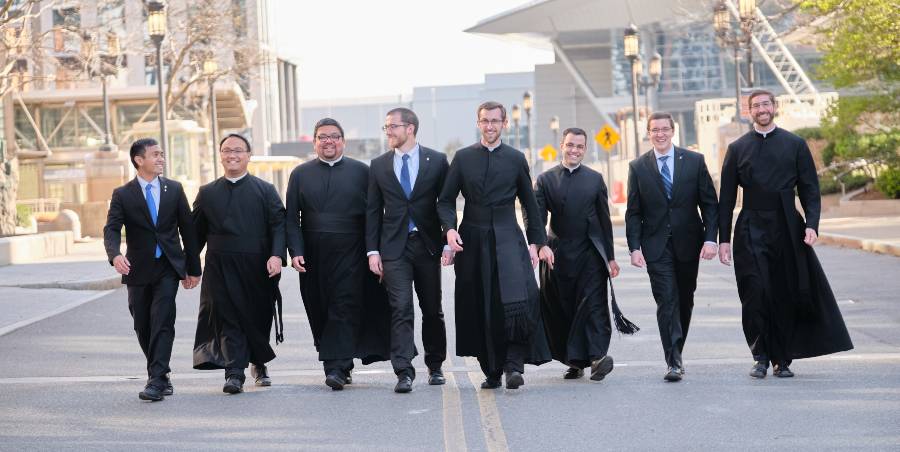 Begin Your Journey
Are you ready to embark on a journey to fulfilling God's calling? The professed dedicate themselves before God to chastity, poverty, and obedience after Jesus' own example, living, serving, praying, and relaxing together. The goal of consecrated life is to become a saint, and every OMV prays, "Mary, I place myself in your hands, so that you may bring me to God. Brothers, I ask your help in order to persevere with fidelity all the days of my life, until the Father gathers me into His arms." (Formula of Profession)
Begin your journey by reaching out to us for more information about our formation process and what becoming an Oblate means in today's world.

Join the Oblates