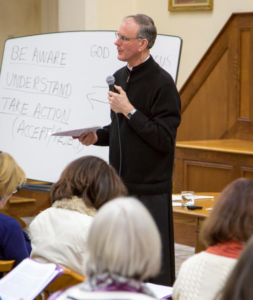 Spiritual directors guide Christian men and women to a deep and meaningful relationship with God. The journey results in a variety of benefits for both parties. Through spiritual director training, directors learn how to accompany other Christians in their journey of transformation in and through Christ.
Spiritual directors do not need to be priests, only to feel a strong calling to help others grow in their faith. Before accompanying others on their spiritual journey, potential directors must be mature in their own faith and confident in their abilities to discern God's will in their personal lives.
How Do You Become a Spiritual Director?
Spiritual director training with the Oblates of the Virgin Mary provides our candidates with both intellectual and practical training. More of an art than a science, spiritual director programs place considerable emphasis on practical experience to guide students on their own journey of discernment before asking that they guide others.
Our training is separated into two main levels. The first, the Prayer Partnering Program, lays the foundation of connecting with God through prayer with exercises such as role playing, prayer processing, and case studies under the guidance of a staff member. The next stage of spiritual director training is the Daily Life Workshop, where candidates focus on learning the Spiritual Exercises of St. Ignatius of Loyola and how to guide others through the exercises. It typically takes candidates a total of five years to complete their training and begin their vocation as a spiritual director in their community.
Are you interested in receiving Spiritual Director Training? The Lanteri Center offers three spiritual director programs in Denver, including an intensive summer program. Satellite programs are being developed in other locations for those outside of Denver and without the flexibility to travel. The Lanteri Center also offers seminars and other enrichment opportunities for those already involved in the ministry of spiritual direction.
Learn More About Training at the Lanteri Center