The Oblates of the Virgin Mary are pleased to announce the Ordination of our brothers
Nathan Marzonie, OMV and Leland Thorpe, OMV
to the Order of Priesthood through the laying on of hands and the invocation of the Holy Spirit by the Most Reverend
Bishop Thomas J. Paprocki, JCD
on Saturday, August 13, 2022, at 10:00 AM CDT at St. Mary's Immaculate Conception Church in Alton, Illinois.
Celebrate By Supporting Our New Priests & Their Ministries
Watch the Highlight Video
Please join us in celebrating the ordinations of Father Nathan Marzonie and Father Leland Thorpe by watching this video highlighting some of the special moments from the ceremony.
Watch the Full Ordination Video
We invite you to share this special moment with our entire community by watching a full recording of the event.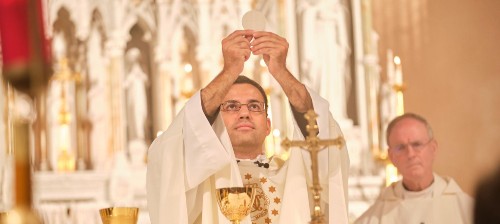 Nathan's Journey to the Priesthood
Hear Nathan discuss his journey to the priesthood and his lifelong commitment to the Oblates of the Virgin Mary.
"I am grateful to God for all that he has done for me. As I have continued to reflect on my life over the years, my gratitude has grown from more deeply understanding how God has provided for me. I received many years of formation before entering religious life, and I continue to benefit from all I learned from my family. Since entering the Oblate community, I have had brothers who have patiently helped me on the way. I owe much of who I am as a man to these gifts. I look forward to the future full of hope for a priestly ministry in which these things given to me will bear much fruit."

Fr. Nathan Marzonie, OMV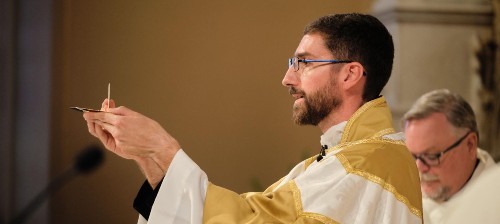 Leland's Journey to the Priesthood
Listen as Leland discusses his journey to the priesthood and his future with the Oblates of the Virgin Mary.
"What a journey it's been! Thank you for your friendship and support as I've tried to walk this path, sometimes running eagerly forward and sometimes tripping over my own feet. I hope that my vows and ordination will help you see how great our God's Mercy is that He has called a man like me and gently sustained me along the way."

Fr. Leland Thorpe, OMV
Ordination to the priesthood is a momentous milestone, and we're overjoyed to celebrate our new priests, Fathers Nathan and Leland!
Support Nathan and Leland's Ministries
As with the start of any new occupation, a newly ordained priest needs a range of different items to begin his ministry. Gifts celebrating the newly ordained will supply them with the items needed for celebrating Mass and the Sacred Rites, including vestments, vessels, a Roman Missal and other tools of the trade.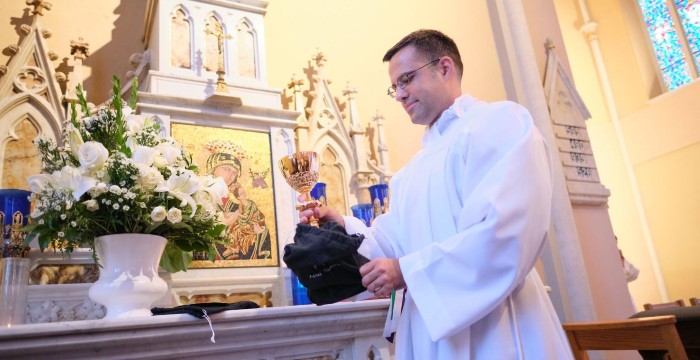 We are grateful to all of our corporate sponsors and advertisers that provide continuous support of our Oblates.