The Oblates of the Virgin Mary are pleased to announce the Ordination of our brother
Paul M. Kallal, OMV
to the Order of Priesthood through the laying on of hands and the invocation of the Holy Spirit by the Most Reverend
Bishop Carl A. Kemme
on Saturday, August 15, 2020 at 10:00 AM
the Solemnity of the Assumption of the Blessed Virgin Mary
St. Mary Parish
519 E. 4th Street
Alton, IL 62002
Watch the Highlight Video
Please join us in celebrating the ordination of Father Paul Kallal by watching this five-minute video highlighting some of the special moments from the ceremony.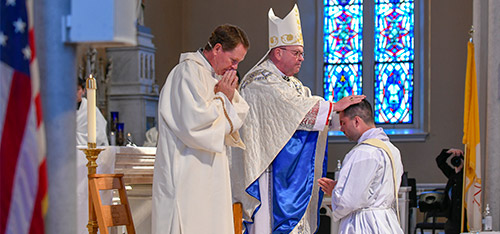 Watch the Full Ordination
While we had to limit in-person attendance to close friends and family to keep everyone safe and healthy, you can still experience the joy of Father Paul's Ordination ceremony for yourself.
We invite you to share this special moment with our entire community by watching a recording of the event.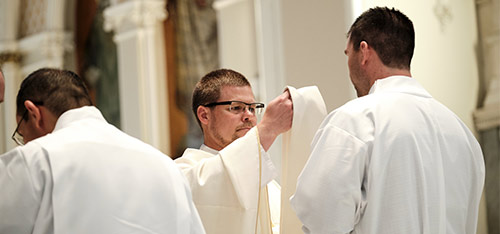 Paul's Journey to Priesthood
Coming to us from Jerseyville, IL (near St. Louis), Paul earned his Bachelor's degree in Nursing from Barnes-Jewish College of Nursing in St. Louis. He worked for several years as a nurse at Barnes-Jewish Hospital. Fr. Paul first met the Oblates at our OMV parish of St. Mary's in Alton, Illinois and entered Our Lady of Grace Seminary in September 2013. He professed perpetual vows in February 2019 and was ordained a deacon in June 2019. He entered his fourth year of theology studies in September 2019, and is now ready to begin his next chapter in the priesthood.
I owe much of my vocation to the generosity of so many at St. Mary's, as well as the people of Jerseyville where I grew up. It has been and will be an even greater joy to serve you as an Oblate priest. God bless.

Father Paul Kallal, OMV
Leading the Next Generation to Lives of Service
As Father Paul transitions to the priesthood, there are other young men who are trying to discover their life's purpose and discern if God is calling them to join the Oblates of the Virgin Mary.
Similar to our work in our other ministries, we offer support and guidance to these individuals and help them on their spiritual journey. Father Paul will be instrumental in reaching out to men who are discerning the call and bringing them into the seminary. He has already begun to serve these future seminarians by holding virtual meetings and prayer with those exploring this path.
Help Our Next Brother Answer God's Call
Donating to the Oblates of the Virgin Mary helps other young men of faith follow in Father Paul's footsteps. We welcome contributions made in honor of his ordination.
Make a Donation in Father Paul's Honor
We are grateful to all of our corporate sponsors and advertisers that provide continuous support of our Oblates.