Answering God's call and joining the Oblates of the Virgin Mary seminary is not the end of the journey. In fact, it's the beginning! It's the start of years of continued and guided discernment to dig deeper into their vocational calling and build a strong relationship with the Lord.
For Bill O'Brien, that meant joining the seminary before eventually starting on a new path nine years later. While that may seem like a waste of time on the surface, Bill believes differently. Even though the priesthood was not ultimately his life's calling, his time at the Oblates of the Virgin Mary seminary brought him closer to God, helped him develop important life skills and prayer habits, and gifted him with incredible spiritual friendships and support in the Oblate community.
Read his story to learn more about his time in the seminary and the gifts that it brought to his life.
Bill O'Brien's Story
"It's divinely hilarious that as I was answering the phone at a call center, God the Almighty metaphorically beeped in! At age 19, I was working as an Operator for a phone company, when between calls, it seemed as if time had stopped. God, the Creator of the Universe, and I were engaged in a perfectly clear dialogue without words. I experienced my Call. God set me on fire!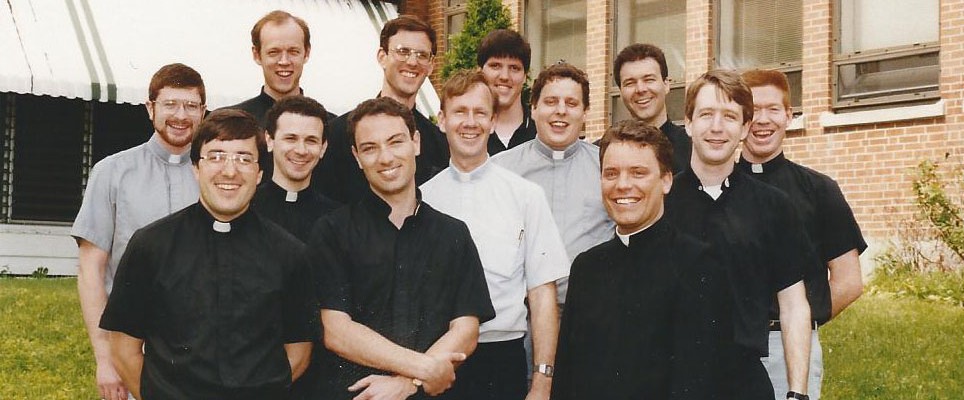 Joining the Seminary
Through Our Lady's intercession and the promptings of the Holy Spirit, I joined the Oblates of the Virgin Mary. Within those years of prayer, I had profound and deep personal experiences of God's love for me. I developed the holy habit of beginning again each day.
By living with the Oblates, I gradually and without noticing it, stepped into a more authentic spirituality…a more authentic me! Fr. Lanteri's dream was being realized.
Nine years later, I left the seminary for as good a reason as I went there, by way of prayer and discernment. I had my diplomas in one hand and a small bag of black clothes in the other and not much else. It may appear to an outsider that I wasted nine years or that I simply washed out of the priestly program, however, I left the seminary very differently than the way I entered.
My Calling
I realize that the Call was not one moment in my life, but something deeper and more profound than a decision in time. The call was to be God's own son – now – today, and to allow my loving Father to lead me into my tomorrows. My heart was joyful when I left the seminary because I wasn't alone.
In addition, the Oblates gave me the ability to be present, communicate effectively and think critically. I had a long and fun career, working more than 25 years in the telecom sector. I believe that my spiritual life gave me the ability to motivate and bring joy to the workplace, but more importantly, God kept his hand on me.
Jesus led me to prison ministry, second chance programs, and helping those without homes. The more I walk toward the outcast, the clearer I am able to see the face of Christ. I don't preach, but I am always happy to share the extravagant mercy God has shown me in my life. The gratitude in my heart can sometimes splash on those around me. Certainly, God is not finished with me yet. I remain a work in progress.
Staying Connected With My OMV Community
Recently, I went away on vacation with seven Oblate priests. The relationships I have with my Oblate friends are unlike most of the other relationships in my life. We can talk nonchalantly about heaven and the things of God. We always pray for each other's families, and we encourage one another. I have laughed till I cried on countless occasions. I have stood by the side of some of these friends when they received the news of the loss of their mother or father.
The Oblates are not just my friends, they are my life-long friends. That's why I continue to support them any way that I can.
There is a heavenly connection that unites me to the Oblates that spans decades. I met these men almost 40 years ago as strangers on a religious path, and I have come to know them as my dear friends and constant spiritual companions on the journey.
These are the best of spiritual friends – in any lifetime!"

Supporting Seminarians
Stories like Bill's are why we do all we can to support our seminarians while they are with us at Our Lady of Grace Seminary in Boston, MA. Discerning a religious vocation is a difficult, but rewarding journey — no matter where it leads you. Even when seminarians do not ultimately join the priesthood or become lifelong brothers, they remain a part of the Oblates of the Virgin Mary community and carry what they learn here through the rest of their lives.
Each year, our Annual Gala supports the Seminarian Fund, which covers the natural costs that accumulate during their time at the seminary. This includes things like housing, education, formation, and spiritual direction.
Join us at the gala this year or consider making a gift to support these dedicated young men as they work to answer God's call of service to others.