If you've read Song of Songs in the Old Testament, you probably remember it as a book of love poetry that stands out from the rest of the Bible. While the traditional Song of Songs interpretation focuses on the relationship between Bride and Groom, Father Gregory Cleveland, OMV, shows us the power of reimagining this text with the pairing of Mary the Mother of God and the Holy Trinity.
In his latest book, Beholding Beauty: Mary and the Song of Songs, Fr. Cleveland builds on years of experience and knowledge as a spiritual director and an Oblate of the Virgin Mary to offer a unique perspective on these ancient Hebrew scriptures. Unlike other Catholic books about Mary, you'll find a refreshing new take on how to grow your own relationship with Mary the Mother of God.
What is the Song of Songs?
Also referred to as the Song of Solomon, the Song of Songs is typically understood as a love poem that, in describing the unveiling of a marriage, exemplifies the longing for God by his people and, in turn, the passion that God has for all of us. As such, it's common for some Song of Songs commentary to identify God or Jesus Christ as the book's Bridegroom, with his people or the Church as the Bride.
Imagining the Bride as Mary
In Beholding Beauty: Mary and the Song of Songs, we see how this seemingly romantic poetry can be interpreted as the longing of Bridegroom (God) and Bride (Mary and us) that leads to a union of profound love which "many waters cannot quench."
According to Father Cleveland, "No human being ever received God's love and grace so much as Mary, to the point of God becoming man in her. She conceived Christ in her heart and then in her womb." In return, Mary fully returns her love as a mother and "becomes his partner in the work of salvation and is exalted to reign with him as Queen of heaven and earth."
The reimagining of Mary as the Song's Bride allows us to recognize our own capacity to receive God and be entirely possessed by him. The passion of a divine relationship is something that we can all aspire to, and we can honor Mary for being a beautiful example of the intimacy, love and light that's possible when you welcome God's presence in your heart.
About Father Gregory Cleveland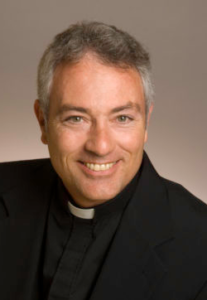 Fr. Greg Cleveland, OMV, followed God's call to join the Oblates of the Virgin Mary in 1987 and was ordained a priest in 1995. He currently serves as the Executive Director of Colorado's Lanteri Center for Ignatian Spirituality, offering spiritual direction and retreats as well as training spiritual directors. He's also an established author on the Song of Songs, having previously published Awakening Love, an Ignatian retreat on the same book of Scripture.
The origins of Beholding Beauty can be traced back to morning prayers at the rectory in Denver. The image of Mary, ready to give birth to Jesus would appeared in Father Greg's mind:
I felt one with Mary in her experience of being full of grace, while realizing I had a long way to go in responding to grace! I felt a desire to imitate Mary in her full surrender in freedom to grace, in her total self-giving to Jesus, who had given himself to her and to the whole human race in the Incarnation. It enthralled me that Mary, in receiving her beloved Lord, was in fact the complete fulfillment of the magnificent bride of the Song.
Reconnect With the Heart of Mary
If you're looking for an interpretation of the Song of Songs for a Catholic audience, or simply want to reconnect with this extraordinary poetry through prayer or a personal retreat, Beholding Beauty offers insight and spiritual encouragement you won't find anywhere else.
In the words of Father Greg, "By reading my book and imitating Mary, you will become a more willing cooperator with the Holy Spirit in your own sanctification."  What better love story to honor and cherish?