Authored by Br. Paul Nguyen, OMV
My pastoral year in retreat ministry is like a retreat in itself! The small community is a joyful novelty, and reveals another facet of religious life, challenging what I had grown accustomed to in the larger seminary community and presenting new delights and challenges. And the Lord is powerfully at work.
Since I arrived here a month ago, I have had a blast! After 2 years of philosophy and 3 years of theology studies in Boston, and my year of novitiate leading up to First Profession, this pastoral year at Our Lady of Perpetual Help Retreat and Spirituality Center is a welcome change of pace! In so many ways, it has been a non-transition. And yet so much is new and different.
My journey with the Oblates so far has been amazingly rich and mysteriously full of grace. Since my family met and fell in love with the Oblates through St. Peter Chanel parish in Hawaiian Gardens back in 2003 and Fr. Greg Staab, OMV, taught my Confirmation class, the gentle, merciful heirs of Fr. Lanteri's charism have coached and encouraged me along the way of sanctity and welcomed me into their family. I love being an Oblate!
In seminary, I arrived with my memories and experiences from the outside of Oblates in a parish setting. I had visited the seminary, but I only knew a little about what seminary life would be like. How would I get along with the men who came to live in the same house based on a radically different history of discernment and complexity of life experiences? How well would we work together? Play together? Pray together? Encourage and support one another? Provide helpful criticism in charity and humility? I did not even know to ask these questions. Yet the answers came. I found brothers. Mostly big brothers. I thrived in the big community of 7-10 brothers in formation together and a handful of priests living side-by-side. We helped each other and grew together, soaking in the charism of the founder as we tried to live our religious life together day by day.
This year, I find myself in a community of two (or 5?). Fr. Sean is my whole community. And I have to pass Jesus' room (our house chapel) to get to the shower or coffee each morning. It's intimate and close. Here we are, living out our consecration, in the spirit of our Founder. Mysteriously, we are not disconnected from the greater community of Oblates. We hear their news, celebrate their feasts, laugh together, mourn together, and work together, reinforcing one another's ministry. We share lives, food, and hearts.
This pastoral year is different and exciting. I used to share 5 cars with 18 brothers. Now I have my own car, yet still "ours." I used to receive the class schedule I would follow each day. Now, I schedule my own directees and carve out time to dedicate to preparing retreat talks and meditations, and time to study the Spiritual Exercises for my Master's thesis.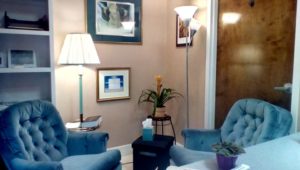 All of the specialized training my brothers and I received over the last couple years in Boston is now put to use. I have seen first-hand—both part-time in Boston and now here full-time—how important it is to focus on the experiences of the retreatant or spiritual directee in prayer and set aside any preparation or agenda I may have had up until the start of our meeting. I can look at a million things about spirituality, prayer, and spiritual direction, spend my time in prayer for my retreatant, and be recollected leading up to the meeting, but once we sit down, as much as all of that preparation matters, nothing matters but the person before me and our relationship with God (yes, both of us!). I was taught this, and I knew it. But now I really know it. As Fr. Tim always said, "Can you hear we are on holy ground?" and "With reverence, let's look a little closer at this experience of prayer."
By this time, I've directed a couple retreats and hosted a couple days of prayer, and I have more on the calendar. My experience so far has been very revealing of where I am, and also very encouraging and fruitful. It is such a humbling privilege to attend to the story of grace in someone's life, and it is always a cause for rejoicing! I like to say it, and many have said it, but I love being in this position to listen, then to laugh and cry with people who need God in their life and who are on their way to let Him in more and more, little by little. It is like I am on retreat, myself. Our God is so good, rich in mercy!