We all heard about the destruction and devastation that Hurricane Ian brought to Southwest Florida just two weeks ago. Our communities in Venice and North Port, Florida were hit especially hard with incredibly strong winds, an unprecedented storm surge, and flooding affecting much of the region.
They've lost so much — loved ones, homes, businesses, and the pieces of daily life, like meals, safe drinking water, and routines, that we often take for granted — but they have not lost faith. In the midst of all of this suffering, Oblates are finding ways to act as the hands and heart of God for those in need, offering relief supplies, prayers, and a comforting presence to the community.
Florida Communities in the Aftermath of Hurricane Ian
The Oblates of the Virgin Mary manage two ministries in Southwest Florida – San Pedro Parish in North Port and Our Lady of Perpetual Help Retreat House in Venice, Florida.
San Pedro Parish
The Oblates were recently asked by the Bishop of Venice, Florida if they could staff and run the Parish of San Pedro in North Port. On August 1st of this year, Fr. Thomas Carzon, OMV, assumed pastoral care of San Pedro as its pastor and newly ordained Fr. Nathan Marzonie, OMV, joined him as parochial vicar.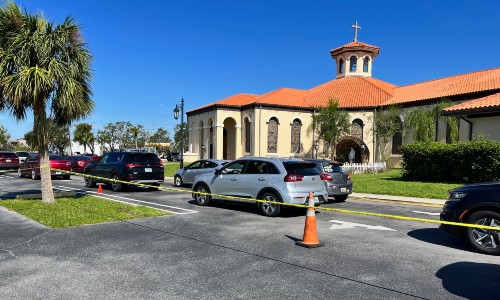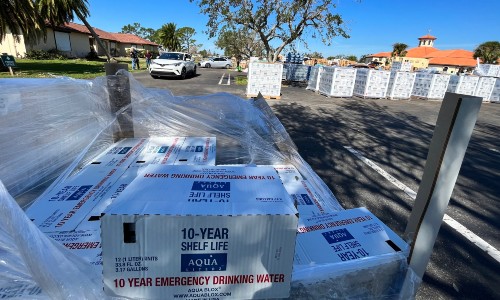 In the aftermath of Hurricane Ian, the San Pedro Church grounds miraculously only saw minor damage from the storm, and it has since turned into a hub for distributing aid and supplies to evacuees and those in need. Evacuees from nearby flooded areas were brought to San Pedro by the National Guard, North Port Fire and Rescue and other local volunteers, where Sarasota County Area Transit buses were on hand to transport them to the nearest shelters.
"It will be a busy time for our priests and lay people as we try to be the hands and hearts of our provident God. His grace will not be lacking."

Fr. Mark Yavarone, OMV
Catholic Charities, the National Guard, and our parish and Oblate volunteers have helped distribute supplies and donations under the direction of Sarasota County emergency management. That included a full truck from Detweielers Market. Their Venice store had been destroyed by the storm, and they loaded up the surviving inventory to distribute to those in need.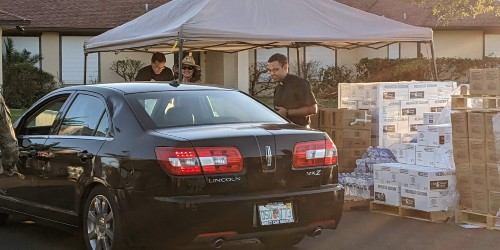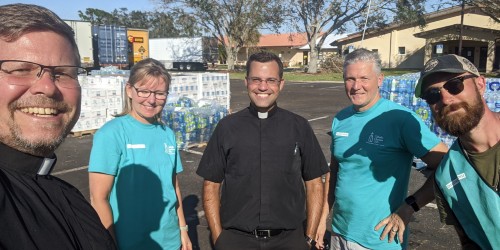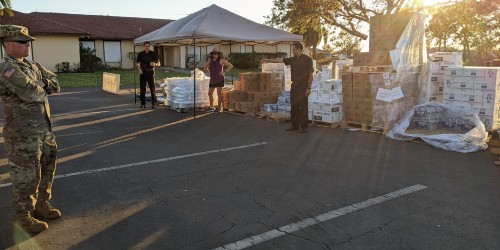 San Pedro laypeople and the Oblates stationed in Venice are working hard to support relief efforts and help all of our community members affected by the hurricane.
"There is just so much goodness in everyone. So many people want to help."

Fr. Thomas Carzon, OMV

Meanwhile, Masses are still being held in the church for the small congregation that can make it. Bishop Dewane joined us to celebrate the 9 am and 10:45 am Masses on Sunday, 10/2 to offer his care and support.
Our Lady of Perpetual Help Retreat House
Our Lady of Perpetual Help Retreat House is directed by Fr. Mark Yavarone, OMV, with Fr. Shawn Monahan, OMV, assisting him as the assistant director of spirituality. Fr. Mark offers this update after kayaking through what was once the peaceful, well-kept grounds of the property.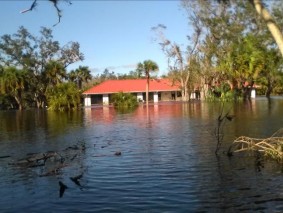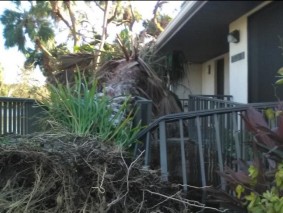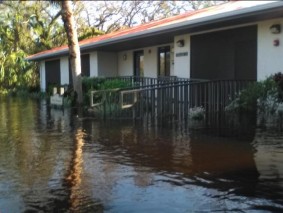 "Although it will still be a while before we can reach the property on foot to assess the extent of the damage, we know that it is extensive. Some might ask why God would want us to spend so much time and effort beautifying the grounds and the interior of the buildings if the mother of all hurricanes was on its way.
However, I'd remind those people that we are in the hands of a provident God who kept us safe in the midst of one of the many tragedies that must befall a fallen world.
At the appropriate time we will reach out for help, but the help that is needed right now is prayer and support for all those who have lost their lives, their loved ones, and their homes." — Fr. Mark Yavarone
Prayers and Support for Florida
Our Oblates and community members in Southwest Florida are doing all they can to ease the suffering and hardship of those affected by the hurricane. What we ask from the rest of our community, wherever you are in the world, is your heartfelt prayers and support.
Donations to the hurricane relief fund will support the relief and recovery efforts by the Diocese of Venice, Florida. The Oblates and our faithful community in Southwest Florida deeply appreciate your support and generosity in this time of great need!
Give to the Hurricane Relief Fund
We also ask that you please join us in prayer for all those whose lives have been turned upside down in the aftermath of Hurricane Ian, as well as those who are helping to rebuild. May they have the strength and the hope to rise from the ashes.
God does not present us with challenges that we cannot overcome together. In difficult times, uniting as a community in prayer, support, and love can help us all to turn the tides.