Spiritual growth can happen at any time of the year and any stage of life. It's a personal decision and commitment to grow closer to the Lord through daily practices and good habits. Many in our community have found completing the Exodus 90 program has led to both spiritual growth and healthier lifestyles.
Lent is a natural time for many to reflect on their faith and all that God has given, and the Exodus 90 program can help men learn and develop daily habits that bring you closer to God.
"Anyone who has a sincere desire to strengthen his relationship with God by taking some concrete steps to make more room for Him in their lives, and who wants to grow to be the holy man that God created him to be, will greatly benefit from this program."

Br. Jay-Ar San Juan, OMV
What is the Exodus 90 program?
Exodus 90 is a 90-day program for Catholic men designed to help you strengthen your relationship with God and become a better man for others.
Rooted in the Book of Exodus, where God leads the Jewish people on a 90-day journey across the desert from slavery to freedom in the promised land, the Exodus 90 program aims to lead modern men to freedom, too.
Designed for men
The program is geared toward men and the struggles that many men experience in today's world. However, there are similar programs available for women through organizations like Endow.
Benefits
Spiritual growth and nurturing your relationship with God is a lifelong journey, but this program can give you the necessary tools for your journey in a brief three months' time. Men who work through the Exodus 90 program establish good habits for continued spiritual growth. The program, designed around the pillars of prayer, asceticism and fraternity, was created to have lasting effects on a man's life and faith.
"The main benefits that I experienced revolved around taking the time to pray everyday and sharing with my brothers. The program helped me establish good habits, better discipline and gave me a sense of community, fraternity and accountability… We don't go it alone. You need others and a community." – Fr. Bill Brown
Learn more and join the program on the Exodus 90 website.
Three Pillars of the Program
The Exodus 90 program is based on three main pillars, which are also the pillars of Christian life.
Prayer
Every day, you'll have a reading and reflection from the Book of Exodus. You'll also learn to create time and space each day for prayer and making the Examen.
Asceticism
Through acts of asceticism, you'll create discipline around your body. By adding practices such as taking cold showers, abstaining from sweets, snacks and alcohol, and not watching television or spending unnecessary time on the Internet or phone, we can learn to put God and others first.
Fraternity
You'll meet with a small group of other men in the program once a week to check in, discuss reflection questions and share as a group. In addition to those weekly meetings, you'll have one accountability partner to connect with on a daily basis to support each other through struggles and celebrate successes.
"I would say that prayer, asceticism and fraternity are three key ingredients in forming holy, virtuous and community-oriented men for God!"

Br. Jay-Ar
The Importance of Spiritual Exercise
Daily life and the struggles that it brings can come at you fast, and it's easy to lose sight of God as you go through the motions. But intentional prayer and spiritual exercises are the key to a strong relationship with God. Every relationship needs time, space and communication.
"To be a disciple of Jesus, you have to have order in your life. We all need structure."

Fr. Bill Brown
The Exodus 90 program is one way to create a habit of daily prayer and spiritual exercises, like the Examen, in your life. It's a great practice to start, no matter your vocation and especially if you're focused on discerning your vocation. Everything that you do or do not do through the program is done for the Lord in an effort to give thanks and grow closer to Him.
From a Program Participant
Hear from two of our Oblates, one priest and one seminarian, about their experiences working through the Exodus 90 program.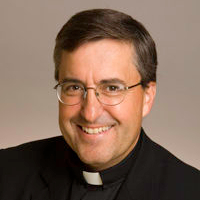 Father Bill Brown, OMV
"I absolutely recommend the program to any lay man or priest… It's given me a regular and disciplined prayer life and helped establish good habits around prayer and the Examen. I pray every morning for an hour and do a daily Examen to put a light on the day and take the time to see God in my day. Before this program, it wasn't necessarily like that."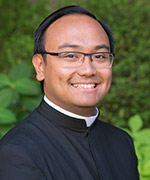 Brother Jay-Ar San Juan, OMV 
"Pope Emeritus Benedict XVI's quote, 'You were not made for comfort. You were made for greatness', comes to mind when I think of my experience of Exodus 90. Giving up snacks and media reminded me of how it can be easy for me to just snack or waste time watching something. That was especially the case when I was having a rough day. During Exodus 90, I found God challenging me, saying, 'You can do more.' In place of those things, I went out for more walks outside and I found more time to talk with my Oblate brothers in the seminary. In a way, I didn't just do 'more', I also did 'better', because those things were far more meaningful than snacking, watching something or going on social media.
Since Exodus, I try to keep that thought in mind that I can always try to do something more than to settle for what brings immediate but temporary comfort. For instance, I go out for a walk and try to make time to reach out to friends to talk with, even amidst the busyness of parish life during my pastoral year. It's easy when things get challenging and stressful to deal with them either by unhealthy snacking or by watching all sorts of media. But I've found that God continues to invite me to strive for 'more' and 'better.' Pope St. John Paul II said, 'Do not be satisfied with mediocrity. Put out into the deep and let down your nets for a catch', and I believe that God continues to invite me to strive for more."
Additional Resources for Lent
In addition to the Exodus 90 program, check out these resources to help you grow closer to God during Lent and all year long.
Even if it's not the right time for you to begin an Exodus 90 program, Lent is the perfect time to create a daily habit of prayer. Try using this special time before Easter to create a daily habit and speak with God every day.
Have you done the Exodus 90 program? What was your experience like? Did it help you form good habits and a stronger relationship with God and others?