Authored by Jorge Sanchez
I was accepted into seminary with the Oblates of the Virgin Mary in the fall 2015. However, because of debt I had to stay in California and pay it off. Since I had to wait I decided to call this My Year of Goodbye.
I continued working through the year back home in Long Beach, California. During this time, my grandmother (who lived in Mexico) passed away due to cancer. It was a difficult time for all of us, especially my mother whom had not seen her own mother in a few years. We immediately went to the Blessed Sacrament, prayed the Rosary, Chaplet of Divine Mercy and prayed for her eternal rest. I was able to say goodbye to my grandmother over the phone a few days before she passed away.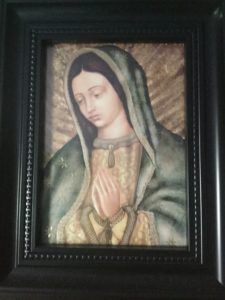 A few months later I became one of the facilitators for the Spiritual Exercise Program at St Peter Chanel. I was blessed to hear so many people open their hearts to the Lord and how he has touched each and every single one of their lives in different ways. Being a facilitator also helped a wound come to the surface of my heart. This wound was in need of healing. With the help of my spiritual director (Fr. Craig MacMahon, OMV) I brought this wound to Mama Mary and our Lord in front of the Blessed Sacrament. Eventually, that wound was healed.
As the time drew nearer to enter seminary I consecrated myself to Jesus through Mary. Additionally, I realized that "goodbye" meant much more than saying goodbye to all my loved ones back home. It was saying goodbye to that wound, a goodbye to my grandmother whom had been very supportive of my vocation, goodbye to my life in California. In each "goodbye" our Blessed Mother was present in her silence, interceding in each moment.
It has been a little over two months since I've said hello to my new life as a seminarian. I have gotten to know the other seminarians and they have gotten to know me as well. After a year of waiting I am grateful for God's plan. The support of my family, friends, benefactors and the community of both St Peter Chanel and my new seminarian brothers has been a blessing. I don't know what God has planned for my vocation in the future and I am ok with that. But for right now I am where he wants me to be. I hope you continue to pray for me and I will do the same for you. God Bless!