We honor the feast day of St. Maximilian Kolbe on August 14, the anniversary of his death, each year.
A relatively modern saint who was killed during the Holocaust, St. Maximilian Kolbe lived a holy and dedicated life during his short time on this earth. When he canonized St. Maximilian Kolbe, Pope John Paul II declared him "The Patron Saint of Our Difficult Century." We can turn to his life, example and intercession through difficult times and decisions in our own lives.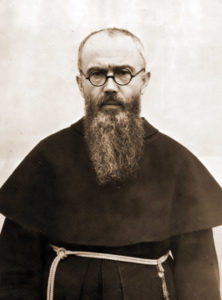 About St. Maximilian Kolbe
St. Maximilian Kolbe was a Catholic priest and Conventual Franciscan friar who lived and worked in Poland during World War II. When Nazi Germany occupied Poland, he chose to continue his work creating religious and anti-Nazi publications at Niepokalanów, a monastery near Warsaw that he both founded and managed.
Doing whatever he could to combat the oppressive Nazi regime and help those being persecuted, he organized a temporary hospital within the monastery and harbored thousands from persecution before his arrest in 1941.
Kolbe was sent to Auschwitz, where he led prayers, sang hymns and comforted other prisoners. When one prisoner escaped and Nazi guards selected ten people to be starved to death as punishment, Kolbe sacrificed his own life in order to save a stranger with a family who'd been selected.
"A single act of love makes the soul return to life"

St. Maximilian Kolbe
It's said that Kolbe spent his final days leading the other prisoners in prayers to the Virgin Mary. As the final survivor of the group after two weeks of dehydration and starvation, guards administered a lethal injection on August 14th. His remains were cremated the next day on August 15th, on which day we celebrate the Assumption of Mary.
Connection to Mary
Even as a child, Kolbe felt the call to religious life. When he was 12, he had a vision of the Virgin Mary that inspired his life's work.
"That night, I asked the Mother of God what was to become of me, a Child of Faith. Then she came to me holding two crowns, one white, the other red. She asked me if I was willing to accept either of these crowns. The white one meant that I should persevere in purity, and the red that I should become a martyr. I said that I would accept them both."

St. Maximilian Kolbe
Kolbe remained devoted to Mary throughout his life, using every avenue he could to spread the word. He published and circulated pamphlets, books, and a newspaper as well as a broadcast over the radio to promote her virtues and the power of her intercession.
Becoming a Saint
Kolbe's courage and faith throughout his time in Auschwitz offered a glimpse of hope to other prisoners living through its horrors. And when the concentration camp was liberated, the story of his courage and charitable heart spread, bringing hope to many more in the aftermath of the war.
In the years since, many have experienced miracles after praying for St. Maximilian Kolbe's intercession. One woman with intestinal tuberculosis was cured of her disease. Another man with calcification of the arteries miraculously recovered.
On October 10, 1982, Pope John Paul II canonized Kolbe and declared him a martyr of charity for his pure heart, courage and selflessness.
Celebrating His Feast Day
There are many ways to honor St. Maximilian Kolbe's life and celebrate his feast day.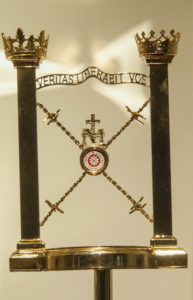 Visit a Relic of the Saint
Our ministry at St. Francis Chapel in Boston hosts a first-class relic of St. Maximilian Kolbe. The relic is a collection of hairs from his beard, which was shaved in 1940 prior to being arrested by the Gestapo and sent to Auschwitz. Praying with his first-class relic is a powerful way to ask St. Maximilian to bring your prayers to God.
Pray for His Intercession
Those facing a difficult decision or situation can find solace in prayers for the intercession of St. Maximilian. The Church also venerates him as the patron saint of those who work in radio, those with substance use disorders, political prisoners, families and journalists. Having suffered from tuberculosis himself, others affected by this disease have seen success through prayers for St. Maximilian's intercession.
Prayer of St. Maximilian Kolbe
The following prayer was especially close to St. Maximilian's heart:
"O Immaculate, Queen of heaven and earth, Refuge of sinners and our most loving Mother, God has willed to entrust the entire order of mercy to You, I, an unworthy sinner, cast myself at Your feet, humbly imploring You to take me with all that I am and have, wholly to Yourself as Your possession and property. Please make of me, of all my powers of soul and body, of my whole life, death, and eternity, whatever pleases You. If it pleases You, use all that I am and have without reserve, wholly to accomplish what has been said of You: "She will crush your head", and "You alone have destroyed all heresies in the whole world." Let me be a fit instrument in Your immaculate and most merciful hands for introducing and increasing Your glory to the maximum in all the many strayed and indifferent souls, and thus help extend as far as possible the blessed Kingdom of the Most Sacred Heart of Jesus. For, wherever You enter, You obtain the grace of conversion and sanctification, since it is through Your hands that all graces come to us from the Most Sacred Heart of Jesus."
Have you prayed for the intercession of St. Maximilian Kolbe? Will you be celebrating his feast day on August 14? We invite you to share your thoughts, experiences and prayers in the comments below.