Throughout the formation process, the Oblates of the Virgin Mary welcome seminarians into community life, spiritual direction and religious study to help them answer God's call to service. The journey to priesthood is different for every man, and each year offers new challenges and opportunities, such as serving in different ministries across the country.
This January, three of our seminarians are preparing for Final Vows and Diaconate Ordination, with Priestly Ordination to follow later this year. Learn more about Br. Leland Thorpe, Br. Jonas Verdeflor and Br. Nathan Marzonie and their journeys thus far, including favorite teachings from OMV Founder Venerable Bruno Lanteri, messages of thanks and notes of encouragement to other men who may be considering a similar path.
Br. Leland Thorpe, OMV
---
Br. Leland hails from Pittsburgh and has one younger sister. He studied at Carnegie Mellon University where he received his B.S. in Computer Science and his M.S. in Robotics. Working as a software engineer in Pittsburgh, he first heard of the Oblates from reading the books of Fr. Timothy Gallagher, OMV. Br. Leland professed his first vows on August 5, 2017.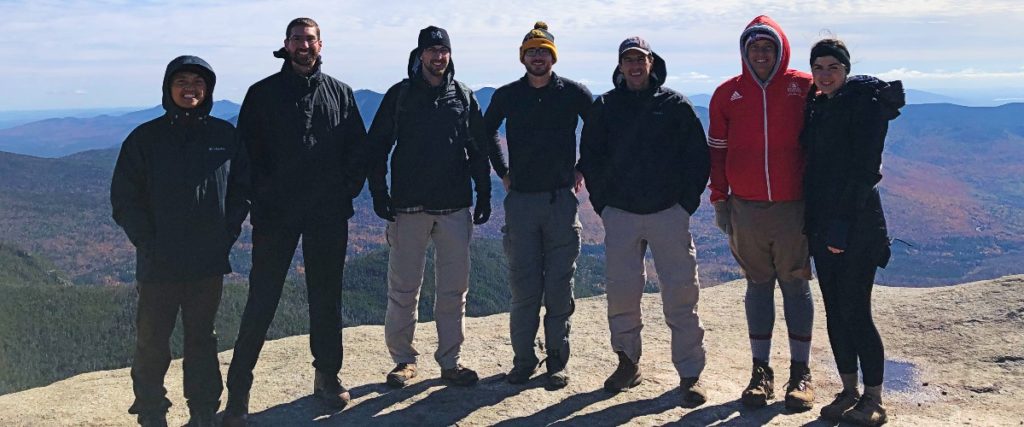 My favorite photo during my time as an OMV seminarian.
On Ven. Bruno Lanteri:
Our founder, Ven. Bruno Lanteri, taught us to "keep our memory gently fixed on Jesus, to accustom the intellect to always see and judge everything according to Jesus to keep our will always tranquil and united to that of Jesus."
By doing this, we slowly become even "a living copy of Jesus." Under the influence of grace, "Jesus becomes the only treasure of our hearts; Jesus thus abides in our hearts and we abide in the Heart of Jesus. Is there anything greater and more consoling than this?" That's the kind of man and priest I want to be! I love that our founder left this to us as part of our legacy, and this quote always makes me feel close to him.
A Message of Thanks:
What a journey it's been! Thank you for your friendship and support as I've tried to walk this path, sometimes running eagerly forward and sometimes tripping over my own feet. I hope that my vows and ordination will help you see how great our God's Mercy is that He has called a man like me and gently sustained me along the way.
A Note of Encouragement:
Do not be afraid! Our God is so loving and merciful, and our lives as Oblates are deeply immersed in His love. Following Jesus, placing ourselves in the hands of Mary, and savoring the wisdom of our founder, we have something special to share with the world. If you're considering visiting or entering formation with us, come and see!
Br. Jonas Verdeflor, OMV
---
Br. Jonas is the youngest of three children and comes to us from New York City, where he earned his B.S. in Journalism and Technical Writing from NYU Tandon School of Engineering. He first learned about the Oblates from watching TV appearances of Fr. Timothy Gallagher, OMV, and was recommended to the Oblates by his spiritual director. Br. Jonas began his first year of postulancy at Our Lady of Grace Seminary in September 2014 and professed his first vows on August 5, 2017.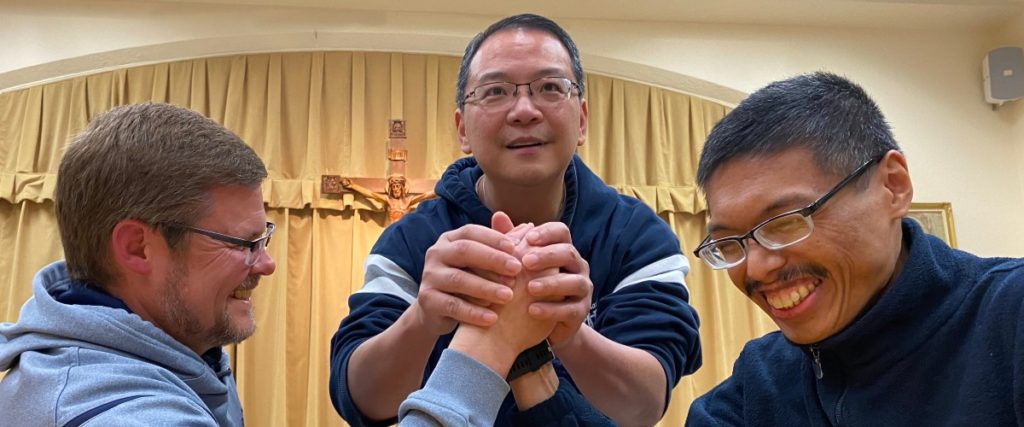 Fr. Tom Carzon, OMV and I arm wrestle with Fr. John Luong as referee.
On Ven. Bruno Lanteri:
One of the writings that I've turned to throughout my time as a seminarian is Fr. Ferrero's description of Fr. Lanteri's Marian devotion. My heart would be full if I had 1% of Venerable Bruno's devotion.
"He was enamored of the Virgin Mary: he put up pictures of her everywhere, he had a precious collection of books which speak of her, and he read from them for a few hours every week. He celebrated her novenas and spoke very frequently about her. He used to say that it is not enough simply to cause devotion toward her in others, but it is also necessary to lead them to a great confidence in her. He always wanted a talk given on her whenever the Exercises were given, and he called her his mother, his nurse, his paradise. In his final illness he told me on several occasions that he had seen a beautiful lady with a beautiful child in her arms who never left him, but would say no more than this." — Fr. Antonio Ferrero, OMV
A Message of Thanks:
It takes an entire lifetime to reach this point. But God has acted in every point of the way.
A Note of Encouragement:
Each potential decision appears daunting and paralyzing without Jesus and Mary. With Jesus and Mary, each choice becomes clear and easy.
Br. Nathan Marzonie, OMV
---
Br. Nathan comes to us from Flushing, MI. The fifth of six children, he graduated from the University of Michigan in 2011 with a B.S. in Molecular Biology and Biochemistry and a B.S. in Medical Laboratory Science. He was accepted to medical school but felt a call to enter religious life.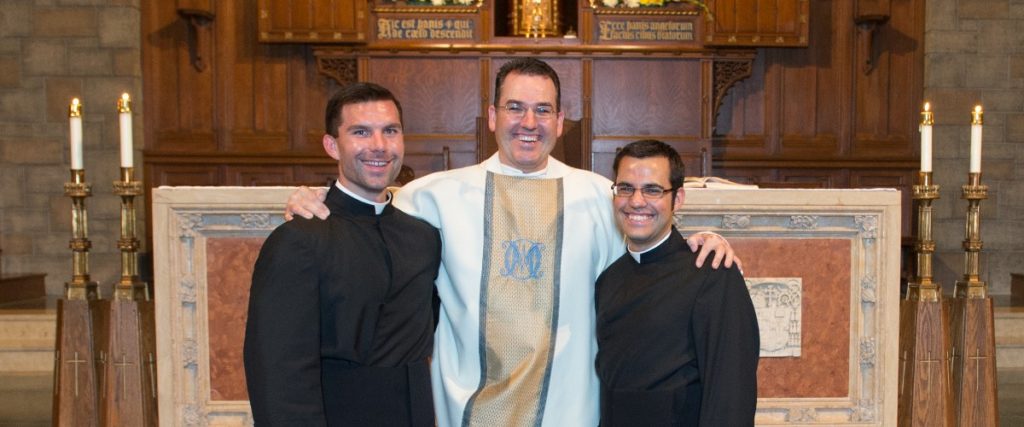 When I made my first vows on August 5, 2015.
On Ven. Bruno Lanteri:
Spiritual joy was central to much of what Ven. Bruno wrote about. His emphasis on joy made an impression on me when I first met the Oblates and has continued to be a reminder to me of how important joy is in the spiritual life. In his writings on spritual joy, Ven. Bruno says:
"Through joyfulness one avoids sins and easily triumphs over temptation. It is characteristic of temptations to begin to instill despondency and sadness and in these waters the devil begins to fish… With joyfulness one easily acquires holiness and perfects oneself through virtuous actions. Joyful giving is done not as a burden, but by good grace, with love. Moreover, sloth is driven out. For this reason, St. Francis of Assisi strongly recommended spiritual joyfulness to his religious, since he himself found out and concluded that it is the best way to overcome spiritual sloth." — Ven. Bruno Lanteri
A Message of Thanks:
I am grateful to God for all that he has done for me. As I have continued to reflect on my life over the years, my gratitude has grown from more deeply understanding how God has provided for me. I received many years of formation before entering religious life, and I continue to benefit from all I learned from my family. Since entering the Oblate community, I have had brothers who have patiently helped me on the way. I owe much of who I am as a man to these gifts. I look forward to the future full of hope for a priestly ministry in which these things given to me will bear much fruit.
A Note of Encouragement:
Do not be afraid! Remember that the Lord is good, and he is always calling you to happiness. Trust Jesus; he will give you the grace to go wherever he calls you.
How to Watch Online
All are welcome to witness the Final Vows and Diaconate Ordination of Br. Leland, Br. Jonas and Br. Nathan. The events will be live streamed from St. Clement Shrine and available on the Shrine's website, Facebook and YouTube channel.
Final Vows: Friday, January 28 at 7 pm ET
Diaconate Ordination: Saturday, January 29 at 11 am ET
If you'd like to watch the events after they take place, you can see video and photo highlights as well as full Mass services in our blog post celebrating Deacons Leland, Jonas and Nathan.
Make a Gift in Honor of Our Seminarians
If you'd like to celebrate the Final Vows and Diaconate Ordination of Br. Leland, Br. Jonas and Br. Nathan, making a gift to the Seminarian Fund supports all those answering God's call to service through the Oblates of the Virgin Mary. The fund helps cover the cost of living, learning and service in our seminaries so that each young man can remain focused on his formation.