In times of emotional and life-altering decisions, it can be difficult to take a moment to listen to God's voice in your heart as He shares what He desires for your life. Have you ever been scared, afraid or angry and done something you wish you wouldn't have? Have you struggled aimlessly over what you want from your life or what your calling is?
Learning how to discern God's will for your life can help you gain clarity and faith for big decisions.
What Does it Mean to Discern God's Will?
Discerning God's will means learning to listen to God's voice in our hearts and follow what He wants for our lives. Through discernment, we practice being an active and engaged listener, strengthening our relationship with God through prayer and trusting that God would only lead us down a path of happiness and fulfillment.
Discerning God's Will requires the three Ds: desire, data and, finally, discernment.
Desire: Emotional awareness. Are you excited or afraid? Learn to be honest with yourself.
Data: Gather information on what the options are, where they are coming from, and what they would mean for your life.
Discernment: Choose the option that increases faith, hope and love in your life.
People often look for signs from God outside of themselves as they determine their paths, but everything we need to know is in our hearts. Discerning God's will involves sifting through your desires and using the data and information you've gathered on each choice before making your decision. When you see the option that brings an increase of faith hope and love to your life, you can have faith and trust in your decision, knowing it's from God.
Discernment in Action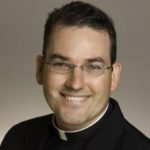 After 10 years of priesthood, Father Shawn thought about pursuing a counseling degree to help more people. He looked into the desires and data behind this thought and what it would mean for his life—that he would no longer be helping to bring people closer to God and instead would work to help them bring stability to their lives and minds outside of the Lord.
After sifting through his desire to help people, he came to the conclusion that leading people to Jesus was more fulfilling for him than a standard degree. He followed the deeper desire like a trail of breadcrumbs until he was able to determine the path that increased faith, hope and love in his life.
Learning How to Discern God's Will
Do you know what God's voice sounds like in your heart? Can you recognize His goodness and distinguish true happiness and fulfillment from other desires? Learning how to discern God's will corresponds with maturing as a Christian and deepening your relationship with God.
The first and most important step in the learning process is to become aware of what's happening in your life and the questions arising in your heart. It takes time to learn what the voice of God sounds like—an increase of faith, hope and love in your life—and to trust in God's will for you. Asking God these questions through prayer and looking in your heart for the answers is an integral part of discernment. It's through prayer, and the inner examination that accompanies it, that we hear God's voice in our hearts.
A mature Christian responds rather than reacts to situations and decisions. They can be present and aware of what's happening in their lives, gathering all of the information they need and spending time in thoughtful prayer before making their decision.
Rules for Discernment
There are rules for discernment, found in the Spiritual Exercises of St. Ignatius, that can be the foundation of your learning process and spiritual journey. The rules are split into two camps and are meant to help you recognize happiness and fulfillment and guide your way back when the path is difficult.
Don't make decisions from a place of desolation
Increases in faith, hope and love come from God
Places of desolation fog your vision of what you want for the future, appearing in the form of anger, anxiety, depression and other states of find that can leave you feeling helpless. These Ignatian Rules for Discernment help you take the time you need to clear your head and look for God in your life.
Ask Mary for Help
The Virgin Mary will lead us and guide those who ask for her help on their spiritual journey. Mary's vocation is a reflection of all of our vocations—say yes to God and bring Christ into the world. Praying with Mary can lead us all to a stronger relationship with the Lord.
The Role of Spiritual Direction
Everyone's learning process is different, but when you're just getting started on your spiritual journey, a spiritual director can be extremely helpful. This spiritual guide can work through options and information with you, asking the right questions and providing advice and prayer exercises to look inward and develop a personal relationship with the Lord.
A spiritual director will see when you're in desolation and help you to stay the course and hold off on making rash decisions. They can be your voice of reason and wisdom, offering reassurance that you're going to be okay and advice to continue on your journey toward discovering what God wants for you.
Finding Your Spiritual Director
It can be challenging to find the right spiritual director for your journey. Not every priest can be a spiritual director, and not every spiritual director will be right for you. The relationship depends on trust and deep heart-to-heart conversations. It's important for both you and the spiritual director to feel comfortable and present when you meet.
Your spiritual director could be:
Ask God to help you find this person in your life, and then be aware and look around in your life to see God's help. It could come from something that resonates with you from a priest's homily or from another parishioner who notices you're conflicted.
Once you find someone, take the relationship slowly. Start with one appointment and ask if they're available to meet on an ongoing basis after that. Test out a couple of sessions with your new spiritual director before committing long term. It's an incredibly important relationship and should not be rushed.
Resources for Your Spiritual Journey
Remember to take time to pause, be present and be aware of what's happening in your heart. And take a helping hand when it's offered. The following resources can help you on your spiritual journey to discernment and strengthening your relationship with God.
Discernment is centered around strengthening your faith and your relationship with God. The greatest intimacies in our lives often occur when we're most vulnerable, when we're at a crossroads. It takes faith and trust to listen for God's voice in our hearts and follow the path He wants for our greater happiness.
The Oblates of the Virgin Mary wish you lots of faith, hope and love on your spiritual journey! Have you received helpful guidance on how to discern God's will? What resources have you found valuable on your journey? We'd love to discuss this further in the comments below.